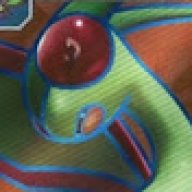 Everything that drowns me makes me wanna fly!
https://www.youtube.com/watch?v=-g3VWOvlcGs

No one has made a topic for this yet, and I played some of it and it's pretty good. As much as I can tell it plays exactly like the minigame in Planet Robobot. HOWEVER, they did mobilize it. You see in the eshop, it's labeled as "free to start", which implies that there's additional purchases, and there kind of is. There's a stamina meter, in-game currency that you can buy. It's meh but as far as I can tell it's all optional. I'll let you know if it isn't, unless someone knows already. Also I don't know if there is online or local multiplayer.

Also they added in equipment and and armor to purchase, which is a great touch, and makes it seem even more like an action rpg. Also there's QUESTS!

It's alright so far, I would give it a try definitely.