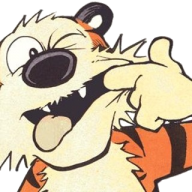 Tucayo
Retired Wiki Staff
Former 'Shroom Staff
Post your best riddles here!
Here are some
*A man walks out of home, makes three turns left and returns home to be greeted by 2 masked man What is happening?
ANSWER:
HE IS PLAYING BASEBALL XD
*A man goes to town on friday, satys there three days and returns on friday. How is that possible???

ANSWER!!!
HE HAS A HORSE NAMED FRIDAY