By Toon King 2​
Disclaimer:
I do not own the rights for either the Mario Characters nor the Pok'emon Species, Shigeru Miyamoto created the Mario Characters and Satoshi Tajiri created The Pok'emon Games, Yugi Naka is responsible for the designs I'm making illustrations with. If you want to Critique or Reply at all, Do it at the
Reply Topic
. Thank You. Keep in mind, I might add in the Guests in this Fanfic, Mario-Related or not, it don't matter.​
Credits go to: Yuji Naka for the Designs, Satoshi Tajiri for the Pok'emon Race, and Shigeru Miyamoto For the Mario Characters.
Attention: I was supposed to name the mother character "Daniella", but if I did, members will end up with a
Super Mario Bros. Movie
Confusion, So hate to disappoint you Mr. Administraitor, but I can't name her "Daniella". Sorry.
Opening Intro: "How Mario and I first met!"
​
W
elcome to Pauline's Home, Pauline lives with her Mother, Arlene, who lives next door to Mario and Luigi's House. One day, while Arlene was washing dishes, Pauline came back home with a wireless internet card/Microphone connected laptop that Pauline bought with her own money. "Pauline dear," Arline asked, "I'm glad you came back, but where'd you get the Laptop?"
"At the Software store," Pauline explained, "I saved up 5600 Coins to buy this computer with equipment along with it."
"But Pauline, you've been laid off from the Nintendo Corp., How did you make all that money?"
"Mother, I told you I have a few part time jobs besides Video Game Actress; Pop Star Performer, Self Employed Gardener, Scientist, Mechanic and also Adventurer. Now if you excuse me, mother, I'll be writing my blog."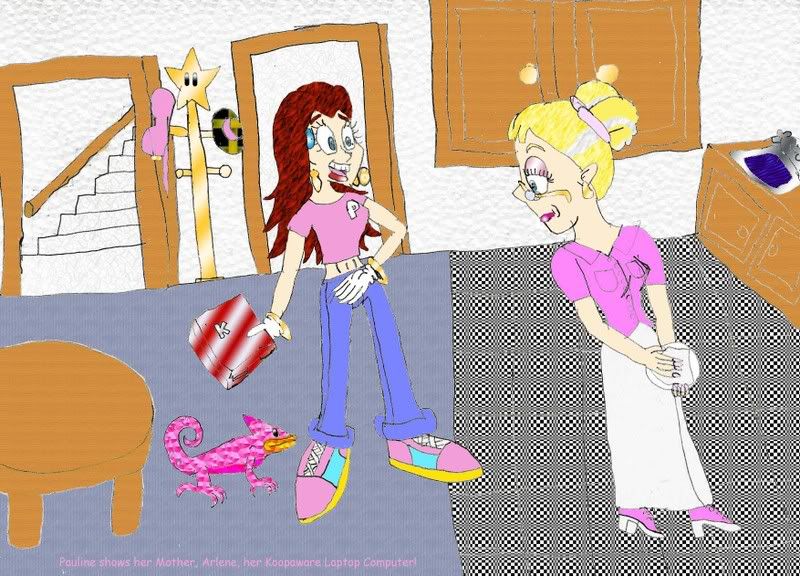 Pauline went to her room then put her laptop on her desk. Then she took a seat and signed in online. "Dear Blog," She typed, "Hi! Pauline here. The Same ex-Girlfriend of Mario's. If you want to Know how Mario and I met, then here's the whole Story:
It all started when were kids; It was our first day at the Super Smash Bros. Academy and Every student of the academy were having lunch. I decided to sit next to the Mario Bros, because they are the most perfect Students, Mario I Mostly sat with. Mario and I introduced to each other, but when Mario called me 'Lady', I was giving him the Sername 'Jump Man'. But suddenly, my Science Teacher, Prof. Donkey Kong Sr. (currently the Retired Crankey Kong) has turned drunk and grabbed me out of the table, acting like he's King Kong. Mario tried getting somebody to save me from that Violent Drunk, but Young Giovanni Ketchum was too busy training his pet Meowth (Currently a Persian), Young Prince Dedede was too busy eating his 2 Ft. Meatball Marinara Submarine Sandwich, Little Wario and Young Waluigi was too busy eating Piles of Garlic and Eggplants, Young Ivo J. "Eggboy" Robotnik (Currently Dr. Eggman) wasn't interested in Playing 'Hero', neither was Young Prince Bowser and Young Prince K. Rool, Donkey Kong Jr. (Currently the current DK) was too soft hearted to confront his father, Dean of Academy Dr. Wrinkla Kong (currently the Retired
and deceased
Mrs. Wrinkley Kong) was afraid her husband might strike her when confronting him, Young Luigi was only staring at it, Young Snake was too busy planting bombs in the Battlefield, Young Meta Nightmare (Currently the Star Warrior Meta Knight) was too busy practicing his battle against Young Melman Psychopath (Currently Psy-Crow), And Young Kirby Nightmare was just standing there. So it was only up to Mario to rescue Me.
Donkey Kong Sr. rudely grabbed me out of school and climbed up the Construction site of Mario's Father's Toy Company, Mario's Toy Factory. As DKS was Rolling down Barrels, I gave him the Sername "Crankey" due to his Crankey Mood. Young Mario was Jumping over the Rolling Barrels and Climbing up ladders and Crushing up Barrels with a Mallet on the way. When Mario Got Near me, DKS grabbed me and climbed higher. Suddenly, he bounced off Trampolines. Mario Jumped on elevators and avoided trampolines. When Mario got near me again, same thing happened, but this time, he was dropping down Pies. Mario Jumped over the creme pies and threw the switch then the Ladder came down and Mario climed up. When Mario got near me again Same thing happened, But this time, DKS took me to the Top and I dropped my things. While Mario was unscrewing the Bolts and avoiding those Flaming Beasts, he collected my Purse, my Umbrella, my Coat and Mother's lipstick. Mario thought he had the Bolts, but the Building wasn't tumbling down. With hope, a Young Princess like Academy Student in a Pink dress floated her parasol to the Top Building and picked up the last one, and as the Building tumbled down. She helped Mario Parasol Jump to the same Bar I was Located. As I held on to her we slafely landed on the ground.
When Mario locked DKS in the Solitary. DKJ grabbed the Key out of Mario's Pocket and set his Poppy free. 'DK', Mario scolded, 'Why are you freeing your Papa? Didn't you realize what he did wrong?'
'Mario,' Dr. Wrinkla Kong advised, 'Don't go
Too
harsh on my Donkey, what he just needs is to get off alcahol addiction.'
'So Pauline,' DKJ asked, 'How about we go out tonight?'
'In your dreams, DK,' I said as I was still talking to my new royal Pink Dressed friend.
She told me that her name is 'Princess Margaret Toadstool', but I have given her the sername 'Peach' as it was her favorite fruit.
All Academy 16th graders, including me, Graduated at my age of 22, I have a few degrees; Gardener, Mechanic, Adventurer, Video Game Actress, Restraiteur. When Mario & I worked at Nintendo of Japan, I explained the childhood story to my Boss, Shigeru Miyamoto, but that's the reason why "Donkey Kong" was installed (althought he didn't add Peach in it that time). My childhood had became global fame on Planet Earth. And Mario and I turned out to be one happy couple, until one day my life was over for a while: It was the first day Peach worked in Nintendo of Japan. I gave her a pat on the back telling her it was nice seeing her again. I even showed her the Portrait of Me and Mario, but I was in the Red Dress and Black slippers in that Photo. I was happily asking her 'why are you working here? You're a Princess!" I was Drinking Diet Chuckola Cola that time, and Shigeru Miyamoto informed me to step into his office. I did and he has told me some terrible news, He explained to me that I wasn't adventurous enough to be a Damsel, so he hired Princess Peach to replace me. 'You're firing me!?' I scolded, 'But that's not even fair anymore!! I didn't even do anything wrong to deserves such abuse!!'
'I said nothing about firing you,' Shiggy explained, 'I'm just laying you off, because Mario can't have
two
damsels in one game.'
Angrily I slammed the door shut. I badmouthed Mario and called off our Engagement. I even scolded to Peach, 'I sure hope you and Mario are happy together!!' then I left NIntendo, never to show my face again.
Mario Told me this. Shiggy then asked, 'Mario, you still run the Toy Factory that your Papa Inherited to you before he died. right?'
'Yes,' Mario answered.
'Then why not create a very special Toy just to make Pauline happy again?" Peach asked.
'I'll a-think about it.'
After a few adventures, Mario reopened his deceased father's Toy Company to run as his own. Mario even created his first toy, Mini-Mario. DK did swipe the Mini-Marios from Mario and Mario Swiped them back. However,
Mario gave one Mini-Mario back to DK because Mario had no heart to really despise him. Mario later opened up the Theme Park 'Super Mini-Mario World' after creating Mini-Toad, Mini-DK and Mini-Peach and Shiggy was the one who invited me as a VIP Guest. I cut the Ribbon and Mario was about to give me the Mini-Mario as DK attempted to give me the Mini-DK. I ignored the Mini-DK for the Moment and recieved the Mini-Mario, that's how DK was ticked off. He, like his father, even kidnapped me. When Mario was about to save me, he discovered me in the Gift Room. DK came by and so did Mini-DK and Mini-Mario. I this time picked up Mimi-DK and gave it a little kiss. ... What just because I disliked DK doesn't give me a right to hate him. Later, Me and All my mario-related friends, especially DK, Bowser, and even big Boss Shigeru Miyamoto, had a big lunch at the eating place in this theme park. Shigeru explained one thing to me, 'Pauline, in order to get your job back, all you have to do is start you adventure. Peach did, so did Luigi, and even Wario himself. Why not you try it?'
'I'll think about it,' I replied to my Boss.
'Hey!' BOwser scolded, 'How come
I
don't get my own game!?
'Bowser, Adventures are a big responsibility,' Shigeru explained, 'I don't think you're responsible enough to have an adventure on your own, yet.'
'Yeah,' Waluigi said to Bowser, 'Tough luck!'
Well... Like what Shigeru said, in order to get my job back, I have to start an adventure on my own. ... OH look at the time, I need to go see a therapist. I'll be signing off now." then submitted the blog and signed off.
Pauline got off the desk, Picked up her mother's pet female Nerr, Nerma, and gave Nerma a kiss on the cheek, put the Nerr back on her desk. Left her bedroom, grabbed her pink cap off the Rack and put it on. "Mother," Pauline explained, "I'm going to head off to see a therapist. I'll be back later!" Then left the house.
"Okay, Pauline," Arlene said, "See you then."
If Pauline Needs to take an adventure, Where can the adventure take Place? ... We'll find out soon