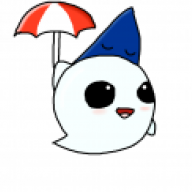 NOPE, THE PARASOL ISN'T A KIRBY IDEA I SWEAR
Banned User
Kirby's Dream Land 3 is a E Rated game, while it has mature content on it. You've all seen Zero, the bloody eyeball boss, right? His main attack is shooting blood at Kirby and at the second phase, he rips his iris out.
And people say Nintendo is for kids.
However, in the upcoming game, Kirby's Dream Collection was rumored to be rated E10+ due to Zero's bloody battle.