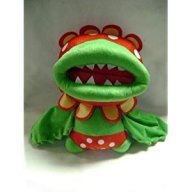 Why does Petey Piranha got to have haters?
I decided to make a list of all the friend codes I have in my games I wish to exchange!
Mario Kart Wii: 1034-4371-8643 (Anywhere)
Mario Strikers Charged: 064650297323 (United States Only)
Mario Sports Mix 1721-4264-4752 (United States Only)

I realize that my standards may be unfair for the last two, but need to avoid that pesky lag don't we?