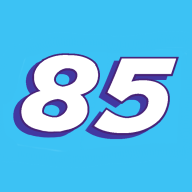 Toadeightyfive; used to be here but peaced out
Yes, I am the first to think of this.
It's the Hurt and Heal game you love in bracket form!
128 characters (less if I can't sign them all up) will compete for the title of Ultimate Character. How, you may ask? They will face off with another character in a Duel. Winner moves on to the next round, loser is eliminated.
Sign-Up Rules
:
1: One user can only sign up 8 characters in total. I may stretch this if I can't fill all the slots.
2: Only
6
representatives of a single series can compete. (i.e., if you want to sign up Yoshi, but there are already 6 mario characters on the list, you can't sign him up.) Sub-series do not count as independant series,
3:
The character must be fictional
. However, if a person
plays
someone that shares the same name (i.e. Stephen Colbert), they count as "fictional".
4: No generic species (i.e. Lakitu) or objects (i.e. Fire Flower) can be signed up. It must be a distinct character. (An exception can be made in the case of Legendary Pokemon, since there is only one of them anyway.)
5: Fan-made characters are prohibited, with a few exceptions. I'm looking at you, Smasher.
Sign-Ups​
Toad (Mario/Toad85)
Ron Weasely (Harry Potter/Toad85)
Superman (DC/Toad85)
Clive (Professor Layton/Toad85)
Com. Data (Star Trek/Toad85)
Miles "Tails" Prower (Sonic/Toad85)
Anakin Skywalker (Star Wars/Toad85)
Yoda (Star Wars/Toad85)
Yoshi (Mario/Smasher101)
Dave Strider (Homestuck/Smasher101)
Mario (Mario/NSY)
Luigi (Mario/NSY)
Wario (Mario/NSY)
Bowser (Mario/NSY)
Sonic (Sonic/NSY)
Knuckles (Sonic/NSY)
Link (Zelda/NSY)
Ganondorf (Zelda/NSY)
Mr. Game and Watch (Nintendo/Raphael)
2003 Raphael (TMNT/Raphael)
Bart Simpson (Simpsons/Raphael)
George Lopez (George Lopez/Raphael)
Dudley Puppy (T.U.F.F Puppy/Raphael)
Captain Falcon (F-Zero/Raphael)
Zapdos (Pokemon/Raphael)