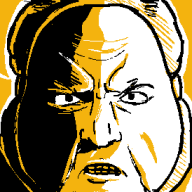 from deltarune
Core 'Shroom Staff
Poll Committee
Wow! Real?

Yes, real! Last year's Scribble Deathmatch is back for another round of summer fun! In the vein of Pictionary and other fast-paced scribble type games, players and artists of all skill levels are invited to take part in this weekly doodlefest.

Tourney Structure (Identical to last year's)

- There are

5 rounds!

A schedule for this tourney can be found in the second post of this thread.

- Each round lasts for approximately

one week,

consisting of a

Submission Period and a Voting Period.

- The Submission period will last

5 days

(Wednesday to Sunday), and the voting period will last

1 day

(Tuesday).

- The missing day is to allow cooldown time between rounds, and for polls to be tallied and results to be formatted.

- Please keep yourself updated on the tourney bracket! You will find it in the second post of the thread!

- Keep an eye on this post, as I may be updating it as I see fit.

Submitting:

- During the Submission period, I will send out reminder PMs to each player individually.

Use that PM chain

to tell me what time and date you would like to receive your prompt and draw a small doodle in response, or catch me in one of the various community discords.

- Interpret the prompt as creatively as you like!

Voters might appreciate creativity more than actual skill.

- You'll have a window of 5 days to choose a time, including the weekend!

- Please inform me of any difficulties that might prevent you from submitting ASAP!

- If you have Discord, a solution will be available in the case that your only available times are incompatible with my sleeping hours.

-

You do not have to organise a time with your opponent, only with me, the host.

Though, if you'd like to draw with your opponent at the same time, I'm happy to oblige.

- When you receive your prompt, you have 4 hours to send me a finished scribble.

Rules for scribbles can be found below.

--- Just remember: 1:1 Ratio, max 600px digital/10cm physical, only 3 Colours!

-

If your submission is invalid, you will forfeit the round,

as it is difficult to impose a new prompt on your opponent with short notice.

Voting:

- At the end of the submission period, all submissions will be put into a Google Form and the link will be provided in the thread.

- As tourney participants, It is expected that you will vote in each round, and for each match-up!

- Spectators may also vote as well!

- Results will be tallied after the 24 hour voting period ends, and posted before the new round begins. We repeat this process for 5 rounds, until the tourney is complete!

Technical Rules (Important)



1.

All players must draw with a limited palette of 3 colours:

Black

,

White

, and

one other colour

you must specify when you sign up. The extra colour represents your fictional bloodline.

2.

All drawings must be done at a

1:1 ratio

(a square), with maximum dimension lengths of

600px

digital, and

10cm

physical. If you're unsure, ask me and I'll send you a blank image to draw on, but I can't send you paper unfortunately! Drawings cannot be animated, they must be static, single-frame submissions.

3a.

For participants drawing digital: scribbles must be drawn as a square image with a non-transparent, white background.

Details on preferred drawing programs, how-tos, and other exceptions can be found in last year's tournament (under 'ADVICE FOR PARTICIPATING'). Full credit to GBA for providing such a thorough explanation. 3b.

For participants drawing non-digital: scribbles must be drawn on a piece of white paper cut to the appropriate 1:1 ratio and size. A black pen, and one other colouring utensil (crayon, marker, etc.) can be used. Providing an approximate HEX code for your chosen colour for the thread and other things is appreciated, though you can always send me a picture and I'll work it out if you can't.

4.

Only 4 hours are allowed for one drawing. Submissions after the agreed upon deadline will not be accepted and you will be considered forfeit for that round.

5.

If you are participating,

please vote in all brackets.

The more votes we have the better the judgment is for progressing the tournament. Spectators are encouraged to vote as well!

6. Be a fair sport!

You will regret participating in any unsportsmanlike behaviour.

Differences from Scribble Deathmatch (2021)
New themes! 5 rounds of new vibes and general silliness. While some of the themes will be more original than others, all prompts will be entirely new and unique.
A little bit of story, as a treat! Following up from the ending of Scribble Deathmatch, the newly christened Scribble Kingdom faces a new threat, and an army is to be raised. The story will be simple and connected to each week's theme.
While wins and losses are still determined by player votes, the ratio of votes will come into play when determining matchups and overall placements. For example, if a player wins by 20 votes, they will have a stronger victory than someone who wins by 2 votes. This is a balance change that will mainly accommodate... (read below)
In the case of forfeits/missed deadlines from players, I am contacting some outsider backup artists of varied skill levels who are willing to do temporary replacements for that round.

If this does not pan out and there is only one player in the matchup to vote for, their victory will be extremely weak (i.e. will be marked down as a 21-20 win, rather than a 40-1 win).
Sign Ups!
I'll need your name and your
colour of choice
. You can provide a hex code, a picture of the colour you intend to use, anything that lets me know what you're going to be scribbling with this year. You can also give your colour an
appropriate name
- I will use this name in your state-appointed warrior title. Leaving the name up to me is also OK! I'm starting with 16 slots, and will raise it by 2 every time it is filled, up to a maximum of 32.
Unfortunately, due to the 1v1 matchup system, there has to be an even number of players. If an odd number of players have signed up, the last person who signed up will act as a replacement instead, which will likely be needed.

Happy scribbling!
Superchao, The Slayer of Ruby Red

Lakituthequick, The Pillar of Burgundy

Turboo, The Consumer of Blood Orange

Waluigi Time, The Remaster of Deep Purple

Hooded Pitohui, The Seeker of Dwindling Light's Violet
Ninelevendo, The Insurgent of Electric Blue

MrConcreteDonkey, The Rover of Camarone

Roserade, The Harlequin of Brilliant Rose

OhoJeeOnFire, The Studier of Grim Green

Yoshi the SSM, The Supervisor of Default Red for Paint

Hearts, The Pride of Orchid

Fawfulhegreat64, The Consort of Heliotrope

Gabumon, The Conductor of Wise Man's Brass

Winstein, The Shaper of Deep Periwinkle

Goombuigi, The Foundation of Chestnut Brown

BBQ Turtle, The Tempest of Chartreuse

Fantanoice, The Holder of Violet

InsaneBlathers, The Helmsman of Gomu Purple

Fun with Despair, The Hunter of Crimson

MsRetroGeek, The Enchanter of Fireball Red

Toadbert, The Harvester of Avocado

Zelen, The Sylph of Radioactive Green

Zange, The Sorcerer of Spring Green

Reverse Input, The Captain of East Blue

Power Flotzo, The Prince of Amber

Luigi 64DD, The Professor of Jade
---- Replacements ----
Long John Spaghetti, The Timelord of TARDIS Blue
Last edited: