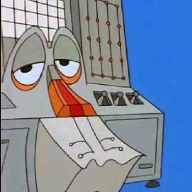 SPM Trash
Forum Moderator
Fawfulthegreat's Presentation Sign-ups Now Open!
Living in Count Olaf's captivity has been dreadful, but I finally found someone who was able to help me free myself!
I owe him a favor but I'm not too worried about that. I can now make my own presentation instead of having that awful man take my place!

What could go wrong?
---
---
If you would like to make an appearance in my presentation, drop your character below!
If you have a decent rigged 3D model of your OC, it would be helpful to provide it because at this stage I'm planning to make my presentation in 3D.
If not, you can still make an appearance! If your character is a simple edit of a Mario character with an available model that should be no problem, and I will try to create customs for as many who don't have models as possible. I can't guarantee I'll have time to make that many though, so if you don't have a model and I'm not able to make one, I will still try to fit in a cameo of your character in some form.
---
---
Sign-ups close when I receive the results for my presentation!
​