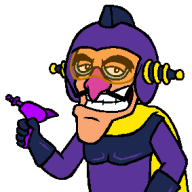 Off-Duty Private Investigator
Wiki Administrator
Core 'Shroom Staff
Awards Committee
Poll Committee
Hello people of the Mario Boards, it is once again time to push buttons and/or joysticks at each other because it's time for the 2022
Super Smash Bros. Ultimate
Tournament! Thanks to Pitohui for allowing me to steal last year's tournament and disguise it as my own cooking.
Like last year, there will be both a 1-on-1 singles tournament and a 2-on-2 doubles tournament running simultaneously.
Brackets
Ruleset
3 stocks
8 minutes
Items and Final Smashes: Off
Spirits: Off
Stage morph and hazards: Off
Team attack: On (for doubles)
Legal Stages
Battlefield
Final Destination
Kalos Pokémon League
Lylat Cruise
Pokémon Stadium
Pokémon Stadium 2
Small Battlefield
Smashville
Town and City
Unova Pokémon League
Yoshi's Island (Brawl)
Yoshi's Story
All Battlefield and Omega forms of stages (with exceptions: see below)
Gentleman's Rule is also in effect, you can use whatever stage you want so long as you both agree on it.
The exceptions are the following, which are all banned regardless (except for their Battlefield/Omega forms):
25m
The Great Cave Offensive
Hyrule Temple
Mario Bros.
Palutena's Temple
The following stages are banned entirely, including their Battlefield/Omega forms, due to their 2D nature having impacts on gameplay:
Dream Land GB
Duck Hunt
Flat Zone X
Hanenbow
Mute City SNES
Pac-Land
Super Mario Maker
All fighters are allowed to be used.
Format
All rounds are Best-2-of-3.
Rounds will last a week. An extension can be granted if necessary, as I know coordination can be difficult.

Failing to partake in a fight during the time granted will result in a loss. If your partner fails to show during the time for doubles, it will have to count as a loss for the both of you. Continuing to not show up will result in tournament disqualification.

The Single player tournament will use a Swiss system, which places people against each other based on their performance.
The Doubles tournament will use a Round Robin system, which lets every team fight each other one time.

These may change depending on the number of players who enter.
Post your scores in this thread, or send them to me any other way you find convenient.
Sign-ups
If you're interested in participating, please post in this thread with the following information:
Solo sign-up

Your forum username
Your Switch username
Your Switch friend code
Time zone and times that work for you

Team sign-ups (one person posts for the both of you)

Both of your forum names
Both of your Switch usernames
Both of your Switch friend codes
Both of your time zones and times that work for you both
A team name for extra flare, and so I have one thing to call you by
Sign-ups are open now and will close at , at which point the tournament will begin.

Participants

Singles
| | | | |
| --- | --- | --- | --- |
| Forum username | Switch username | Switch friend code | Time zone and times available |
| @Shmaluigi | WT | SW-4223-0648-3321 | CDT/UTC-5 (Active Hours: 11am-9pm with a few exceptions) |
| @Hooded Pitohui | Ovie Val | SW-6880-0428-3118 | EDT/UTC-4 (Active Hours: 16:00-21:30 UTC weekdays, flexible with couple days advance notice) |
| @Sunshine Goombuigi | Luigi | SW-5622-4479-3404 | CEST/UTC+2 (Active Hours: 09:00-22:00) |
| @Reigen Arataka | Luigi 64DD | SW-4184-5900-3232 | CDT/UTC-5 (Active Hours: Most of the day) |
| @fantanoice | fantanoice | TBA | AEST/UTC+10 (Active Hours: Weekends or after 5pm weekdays ideal) |
| @Yoshiwaker | Ryan | SW-7606-6233-3515 | EDT/UTC-4 (Active Hours: Most times, just ask first) |
| @Ninelevendo | Nin11do | SW-5056-6247-9414 | AEST/UTC+10 (Active Hours: After 5pm most days) |
| @Meta Knight | Meta | SW-1513-5360-0639 | PDT/UTC-7 (Active Hours: After 6pm weekdays, all day weekends) |
| @BEEEEEAAARRRS | toadbert | SW-5121-0331-7938 | CST/UTC-6 (Active Hours: Sun-Thurs evenings, can maybe do earlier in day) |
| @Raiko Horikawa | | TBA | |
| @Turboo | turb | SW-1512-5312-3150 | MST/UTC-7 |
Doubles
Team name
Forum usernames
Switch usernames
Switch friend codes
Time zones and times available
Mustela Knight
@Meta Knight
@Weasel
Meta
weezel.
SW-1513-5360-0639
SW-8406-2414-6708
PDT/UTC-7 (Active Hours: After 6pm weekdays, all day weekends)
EDT/UTC-4 (Active Hours: Generally after 3pm)
POV the Nintendo Switch Online + Expansion Pass Experience
@Ninelevendo
@fantanoice
Nin11do
fantanoice
SW-5056-6247-9414
TBA
AEST/UTC+10 (Active Hours: After 5pm most days)
AEST/UTC+10 (Active Hours: Weekends or after 5pm weekdays ideal)
Rogueport Rogues Redux
@Shmaluigi
@Dimitri A. Blaiddyd
WT
NinjaSquid
SW-4223-0648-3321
SW-0877-7455-5004
CDT/UTC-5 (Active Hours: 11am-9pm with a few exceptions)
ADT/UTC-3 (Active Hours: 7pm-11pm)
she can fix us
@BEEEEEAAARRRS
@Yoshiwaker
toadbert
Ryan
SW-5121-0331-7938
SW-7606-6233-3515
CST/UTC-6 (Active Hours: Sun-Thurs evenings, can maybe do earlier in day)
EDT/UTC-4 (Active Hours: Most times, just ask first)
TBA - will be filled in ASAP.
@Hooded Pitohui
@Reigen Arataka
Ovie Val
Luigi 64DD
SW-6880-0428-3118
SW-4184-5900-3232
EDT/UTC-4 (Active Hours: 16:00-21:30 UTC weekdays, flexible with couple days advance notice)
CDT/UTC-5 (Active Hours: Most of the day)
@Raiko Horikawa
@Sunshine Goombuigi
-
Luigi
TBA
SW-5622-4479-3404
-
CEST/UTC+2 (Active Hours: 09:00-22:00)
Team Goat
@Turboo
@Herlock Sholmes
turb
idiot
SW-1512-5312-3150
TBA
MST/UTC-7
MDT/UTC-6
Last edited: