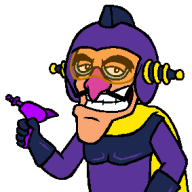 Off-Duty Private Investigator
Wiki Administrator
Core 'Shroom Staff
Awards Committee
Poll Committee
Hey there, readers of The 'Shroom! As mentioned in Issue 178, TPG is stepping down from his role as Graphic Design Manager, and we are now looking for someone to fill the position. The Graphic Design Manager's role is to make digital artwork as necessary for The 'Shroom, including backgrounds and banners.
If you are interested in the position, please
send your application to
Ninja Squid
and
Waluigi Time
. Your application should include a brief introduction of yourself, your reasons for applying for the position, and a sample of some of your artwork.
Applications for the position will be open until
.