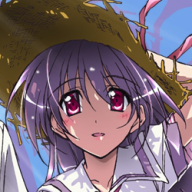 🌻Ashita wa nanika ga kawaru ka na?
Konbanya~...
It is I, iDOLaGRAMiC's urban legend VTuber, Bakerei Oriya.
So, there's a special announcement I have; for Mario Awards XV I'm doing a special stream. We're going to be talking about a really weird Mario urban legend at
09:30 JST
on Saturday. Please be there for it.
[TL note: Friday 8:30 PM EDT / Friday 5:30 PM PDT / Saturday 2:30 AM CEST]
​
Pachipachipachipachipachi~
So, uh, my manager said "this is an audience that mostly doesn't watch VTubers, so you should explain about that before the stream." It's not very complicated though, is it. Anyway, just read the rules in the stream description and behave in chat.
Oh, one thing I did want to explain though is how to
Superchat
.
Just post a short message... Uh, let me see...
300 characters
or less here and I'll read it at the end of the stream. Oh, but sending Superchats
costs money
, right. So, for one, don't, like, go into debt sending me them.
That wouldn't be good.
To pay for Superchats just post
a picture of some money
with your message along with specifying the amount.
Oh, or, New Princeton residents can also send payment to iDOLaGRAMiC Corporation's PO box,
row 3 column 2
at the
New Princeton Post Office, 10 Hill St., New Princeton
, near the
Uniju Farms Tower
. Just be sure to say here what you sent if you do that.
Also, for technical reasons, we can only process payments given in one currency or one type of item for the entire payment. You can pay in whatever you want but don't mix and match. Sorry.
I think that's about that.
Oh, wait, just remember that Superchat submissions end at
12:59 JST tomorrow
.
[TL note: Thursday 11:59 PM EDT / Thursday 8:59 PM PDT / Friday 5:59 AM CEST]
Ok, that's actually it. Again, remember to tune in.
Otsuya~!
____________________________________________________________
____________________________________________________________
#化霊織矢 --- #BakereiOriya – General
#生オリヤ --- #OriyaLive – Stream discussion
#ユーレイタチ --- #Yuureitachi – Fans
#オリヤート --- #OriyArt – Fanart
Emoji/oshi mark:
(bow and arrow)
____________________________________________________________