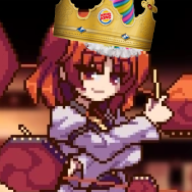 Live your life according to your rhythm!
Forum Moderator
Chat Operator
Core 'Shroom Staff
Awards Committee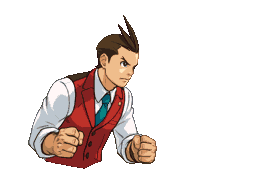 Let me just point out a few more examples of the power of warm colors in designs!
Red, white, memorable. Sure, there's a spot of blue to offset the rest, but it's the red and white that cause a distinct, obvious portrait and design. They grab you by the shoulders, going "I'm the main character!" They make sure you remember this character - who's going to remember the blue version?
Or maybe you want a more subdued, less in your face design? Something like this! Everyone talks about the forcefulness of warm colors, but when used properly they can be just as muted and gentle as the cool colors. The cool colors can't very well turn back and become super in your face and obvious when that IS needed, though!
There might be some green here, but it's in its proper role - serving as a backdrop. The main design part is a powerful dark red, and the pink hair and eyes really stand out and become the iconic, defining parts of the design. It wouldn't work nearly as well in reverse, now would it?
And of course, reusing the same warm colors doesn't mean a rehash. Red and white all over again, but presented entirely differently and uniquely to the previous red and white. All you need is some warm colors and good aesthetic sense, and bam!