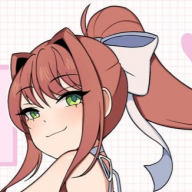 The Tycoon Tyrant
Forum Moderator
Core 'Shroom Staff
Awards Committee
Poll Committee
Welcome to the second-ever MarioWiki Panel de Pon tournament, where we can all collectively use this tourney as a ritual to summon a new Panel de Pon game into existence! Please Nintendo.
A very special thank you goes to tfp for organizing this tournament last year and giving it a groundwork, and for supplying us with all of the resources you'll be seeing throughout this op
How do you play this game?
Panel de Pon is a match-three puzzle game where fairies fight each other by creating combos. Matching colors and dropping pieces into place is the bread and butter of its quick gameplay. Experimenting with the game in single-player is one of the best ways to learn PDP, but if you want some direct tutorials, you can check out these videos tfp put together last year:
We'll be using the
Nintendo Switch Online version
of this game, supplied through the """""Virtual Console"""""". If you would like to play the tourney but paying for online is a concern, let me know and I'm willing to work out something with you.
Here's some important terminology to remember:
-
Round
: The current match you're playing. Rounds are counted by the stars at the bottom of the screen.
-
Point/Game
: Synonymous terms, called points in-game. When you win two rounds, you'll win that game.
-
Set
: Winning two games against your opponent wins you the set. The set is what you're fighting for every match.
How will the tournament play out?
The competition will be rotating through with
round robin matches
. This means everybody will be playing everybody else. I'm currently intending each round deadline to be five days, but depending on how many players sign up, this time frame may be lengthened or shortened. The op will be updated with an online bracket, so you'll be able to see who you'll be facing in each round.
Sets will be played as first to two points. Each player will
start at level 6, and increase level by 1 after each game.
There's no time limit or anything, so matches can go as long as they need to. Whoever wins the most sets by the end of the competition will be crowned winner of the tournament.
Oh geez I shouldn't join because I've never played before
Please don't let this be a hindrance! Last year's tourney was the first time several community members had ever played Panel de Pon, and with plenty of novice players and experienced veterans, the skillpool will be engaging for everyone. No matter who you face and if they kick your ass in five seconds or not, you'll be able to learn a little more about the game, and hopefully have some fun! PDP is a fairly simple game to pick up, so I hope that if you're interested, you'll join us for some good times
Wait this game is entirely in Japanese what
Yeah, Nintendo couldn't be bothered to localize the game for its """""""Virtual Console""""""""" release! Thanks guys!
The good news is, tfp supplied English screenshots in his thread from last year, denoting which button means what! Everybody make sure to thank him with thunderous applause as you sign up
Main Menu
1Player Game
Endless - just how it sounds like
Time Trial - 2 minutes to get a high score. You can adjust the speed of how the blocks rise from the bottom and the difficulty (how fast a match clears)
Stage Clear - Clear blocks as quickly as possible to get them under a white line that will pop up as you keep disposing blocks
Puzzle - Clear the board in the alloted moves
Vs - The main story mode, This will help you practice for the tourney
2Player Game
How to Play
How to Improve (useful for newcomers!)
you can navigate through these step by step to visualize how chains and combos are done
How to Improve Combos Menu
How to Improve Chains Menu

How to Improve Skillchain Menu

Okay you've convinced me I'm signing up
Please let me know your username and Switch friend code! I'll leave sign-ups open for about a week, and we'll go from there
Roserade - SW-5046-6095-0140
Goombuigi - SW-5622-4479-3404 (Luigi)
GBA - SW tba
Shoey - SW tba
Alex95 - SW-0311-3668-6030
Kirbyo - SW-0015-8752-0723
Hooded Pitohui - SW-6880-0428-3118
Waluigi Time - SW-4223-0648-3321
Superchao - SW tba
Turb - SW-1512-5312-3150
Shy Guy on Wheels - SW-0123-1155-4155
Zange - SW-5651-4742-8511
Troy - SW-0919-9267-7387
Last edited: