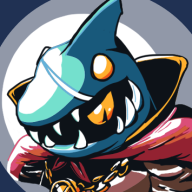 do you ever yearn for the soft touch of a pancake
Core 'Shroom Staff
​
WHAT IS THIS?
A tournament about scribbles and doodles! Inspired by the fast-paced drawing scenarios in Pictionary, skribbl.io, and various Jackbox games, this event is about scribbling wacky doodles in a tournament format. It's less intensive than a full Mario Awards art contest, while still openly inviting artists of all skill levels to participate and have fun!

HOW'S IT WORK?
​
Tourney Structure (Real)
- There are
7 rounds!
A schedule for this tourney can be found in the second post of this thread.
- Each round lasts for approximately
one week,
consisting of a
Submission Period and a Voting Period.
- The Submission period will last
5 days
(Wednesday to Sunday), and the voting period will last
1 day
(Tuesday).
- The missing day is to allow cooldown time between rounds, and for polls to be tallied and results to be formatted. For the time being, since there is no vote for this week, you'll have essentially an extra 48 hours to prepare before the first theme is revealed.
- Please keep yourself updated on the tourney bracket! You can find it
here
or in the second post of the thread!
Submitting:
- During the Submission period, I will send out reminder PMs to each player individually.
Use that PM chain
to tell me what time and date you would like to receive your prompt and draw a small doodle in response, or catch me in one of the various community discords. My timezone is AEST (UTC +10).
- Interpret the prompt as creatively as you like!
Voters might appreciate creativity more than actual skill.
- You'll have a window of 5 days to choose a time, including the weekend!
- Please inform me of any difficulties that might prevent you from submitting ASAP!
- Sadly, I do have to sleep, but I might be able to work out a system that allows me to send prompts during hours where I am not available, we'll see!
-
You do not have to organise a time with your opponent, only with me, the host.
Though, if you'd like to draw with your opponent at the same time, I'm happy to oblige.
- When you receive your prompt, you have 4 hours to send me a finished scribble.
Rules for scribbles can be found below.
--- Just remember: 1:1 Ratio, max 600px digital/10cm physical, only 3 Colours!
-
If your submission is invalid, you will forfeit the round,
as it is difficult to impose a new prompt on your opponent with short notice. For round 1, I will very likely be lenient as people are still working out what to do, but for later rounds this is non negotiable.
Voting:
- At the end of the submission period, all submissions will be put into a Google Form and the link will be provided in the thread.
- As tourney participants, It is expected that you will vote in each round, and for each match-up!
- Spectators may also vote as well!
- Results will be tallied after the 24 hour voting period ends, and posted before the new round begins. We repeat this process for 7 rounds, until the tourney is complete!
Functionally, this is similar to the Smash Bros. tournaments, which divide rounds into week-long intervals of time for pairs of players to decide when they want to fight.

- Each week, a theme will be posted in the tourney thread. These themes will relate to Mario, the Awards, and MarioWiki as a whole.
- Participants will face off against each other by drawing small doodles based on a prompt relating to the weekly theme. Interpret the prompt as creatively as you like! Voters might appreciate creativity more than actual skill.
- Both players in a given matchup will individually agree to a time during the week with the host (they don't necessarily have to be the same time). The prompt will be provided when this time rolls around.
- Players will then have 4 hours to submit their drawing to the host in private. You can provide a title for the drawing if you wish.
- At the end of the week, all submissions will be posted in the thread, with polls for each. A 48-hour voting period will be given for spectators and participants to decide who the winner of each match-up is!

Once sign ups are closed, a tournament bracket of 1v1 matches will be drafted. The exact format of this is dependent on participation; with a low number of sign ups we can do a round robin where everyone draws against everyone else, with a high number of sign ups we will do a swiss-style tournament. Elimination will not be necessary. This will be discussed further as we near the tournament's start-date, which will be sometime in June.

If interest is unexpectedly high, I might even have to do 4p free-for-alls for the first few rounds to prevent the tourney from dragging on for months! As this is a new tournament, expect some creases to be ironed out as we work out what works and what doesn't.
EXAMPLE MATCH-UP:
ROUND 0
THEME - MARIO ITEMS
BRACKET 1
PROMPT -
MUSHROOM
​
Friendly Mushroom
Submission by Skibbity Bob M. Dada, Champion of Crimson​

Send It Back

Submission by Kammi K., Queen of

Supernova

​
WHY SCRIBBLES/DOODLES?
​
Because they're simple! The definition of a doodle is "a rough drawing made absent-mindedly". Going overboard is not necessary in this tournament. All of the examples you see in the thread here were drawn in less than 30 minutes maximum, with some being done in roughly 5 minutes. It's meant to be low effort and fun!

However, to mimic the style of the drawing games this tourney is inspired by, and to level the playing field just a little, the following restrictions will be enforced for the duration of the tournament.
RULES (LEGALLY BINDING (REAL)):
1. All players must draw with a limited palette of 3 colours: Black, White, and one other colour you must specify when you sign up. The extra colour of your choice is meant to distinguish players, and make things a little more thematic! Imagine you're fighting over a box of markers



2. All drawings must be done at a 1:1 ratio (a square lol), with maximum dimension lengths of 600px digital, and 10cm physical. If you're unsure, ask me and I'll send you a blank image to draw on, but I can't send you paper unfortunately! Drawings cannot be animated, they must be static, single-frame submissions.

3a. For participants drawing digital: scribbles must be drawn as a square image with a non-transparent, white background. Details on preferred drawing programs, how-tos, and other exceptions can be found below.

3b. For participants drawing non-digital: scribbles must be drawn on a piece of white paper cut to the appropriate 1:1 ratio and size. A black pen, and one other colouring utensil (crayon, marker, etc.) can be used. Providing an approximate HEX code for your chosen colour for the thread and other things is appreciated!

4. Only 4 hours are allowed for one drawing. Submissions after the agreed upon deadline will not be accepted and you will be considered forfeit for that round.
5.
If you are participating,
please vote in all brackets.
The more votes we have the better the judgment is for progressing the tournament. Spectators are encouraged to vote as well!
6. Be a fair sport!
Any unsportsmanlike behaviour will be reprimanded and you might be kicked out of the tourney entirely (and banned from other Mario Awards events) if it persists.
ADVICE FOR PARTICIPATING
Because we have community members with various operating systems and accessibility, restricting everyone to one drawing platform is more than a little difficult. However...
The pencil tool is your friend!
​
Most drawing programs offer a brush with a
hard edge
that remains a
consistent colour
(no anti-aliasing), normally known as the Pencil tool (or Pixel Pen). This is the kind of digital brush recommended for drawing in this contest. Setting your canvas size to 600x600 and using only the pencil tool with three colours will keep you in the clear for appropriate submissions. As we have physical submissions, which by nature aren't one solid colour on the edges, using an anti-aliased brush isn't strictly cause for disqualification, provided you aren't doing massive amounts of gradient shading with its blurred edges. This guideline is to keep entries mostly consistent with the three colour rule and examples shown!
I am definitely not an expert here, but here are some recommendations for free-to-use drawing software:
-
Microsoft Paint
- the classic, installed on all Windows operating systems. The only problem with MS Paint is that it does not support Hex Codes, only RGB/HSL values. Most online colour picker programs allow you to input Hex codes to get these values, so just be sure to convert them properly and you'll be fine!
-
Oekaki.nl
- an online drawing program well suited to doodling. Choose the Blush program, and then set the canvas size to 600x600 before beginning to draw with the pencil tool. You can save your drawing by printing your screen and cropping it in whatever image editor you please (there is no save function). You
do not
need to sign up or submit images to the gallery, print screening is fine and encouraged by their FAQ.
-
GIMP
- the classic secret santa gift. Operates similarly to Photoshop, works on Linux systems and is free to download. Supports various file types.
-
Paint 3D
- the hidden, better version of Microsoft Paint. There is a Hex code inputter for colors, but when drawing with this software, do not use the pencil, but rather the Pixel Pen, and you can adjust your canvas size with one of the option tabs in the top part of the screen.
-
you can draw in real life that's okay
- unless you live in a dystopia, paper and marker are easy to come by. Just make sure you cut it to be a square and doodle your heart out!
Other examples include:
Paintbrush (for MacOS)
,
paint.net
, and
Krita
.
I'm willing to be lenient on the program you use (and even the maximum size, provided you can give me a good reason), so long as you can restrict yourself to three colours resembling white/black/your chosen colour and maintain the doodle style! If you're limited by your software, this also means you don't need to use #000000 as
Black
and #FFFFFF as
White
, but, those two must remain as close to those colours as possible. Please inform me ASAP if you are using different colours, and your reason for doing so.
As an example, I've had someone ask if
Animal Crossing: New Horizons'
bulletin board drawing feature is acceptable, and I'll allow that (provided they crop the image to a 1:1 ratio before submitting), because you are very limited by its colour system, even if its black/white aren't perfectly #000000 and #FFFFFF.
WOW THAT WAS A LOT OF WORDS TO SAY "JUST DRAW"
​

✰ SIGN UPS ✰

1.

TPG, The King of

Sunset Gold

2.

Roserade, The Archduke of

Brilliant Rose

3.

Waluigi Time, The Master of

Deep Purple

4.

Hooded Pitohui, The Keeper of

Amethyst

5.

Reverse Input, The Champion of

Dodger Blue

6

. Ninelevendo, The Hero of Bright Turquoise

7.

LB, The Lord of

Casablanca

8.

MCD, The Jester of

Camarone

9.

Zange, The Queen of

Spring Green

10.

Luigi 64DD, The Arbiter of

Neon Green

11.

Yoshi the SSM, The Manager of

Default Red for Paint

12.

Perch, The Undertaker of

Burning Red

13.

Power Flotzo, The Majesty of

Monza

14.

Turb, The Ranger of

Blood Orange

15.

Fawfulthegreat64, The Countess of

Heliotrope

16.

fantanoice, The Lady of

Fanta

17.

Lakituthequick, The Architect of

Burgundy

18.

Toadbert, The CEO of

Cash Money

19.

Hearts, The Harbinger of

Amour

20.

Moldomré, The Inquisitor of

Mauvelous

21.

Mfan168, The Hierophant of Cobalt

22.

Alex95, The Gladiator of

Silver

23.

Koops, The Ghost of

Red Berry

24.

Smasher, The Priestess of

Sapphire

25.

Goombuigi, The Adventurer of

Goombuigi Green

26.

Anton, The Magician of

Crayola Orange

27.

Edo, The Serpent of

Cold Iron

28.

SGoW, The Minister of

Eggplant

29.

BBQ Turtle, The Duchess of

Chartreuse

30.

Winstein, The Justice of

Windsor

31.

Zelen, The Herald of

Radioactive Green

32.

Koopa Con Carne, The Defender of

Spring Blues


--- HARD CAP FOR ENTRIES --- Reserves

- There is no guarantee you will be able to participate when signing up beyond this point, but if someone opts to leave the tourney BEFORE it starts, reserves will be added to the bracket in the order listed below.

33.

Kirbyo, The Undiscovered Superstar of Lime

34.

Toadgamer, The Governor-Elect of

Indigo

35.

InsaneBlathers, The Curator-In-Training of

Merlot

36.

Michelanshoego, The Shoeperintendent of

BEEEEF

37.

38.

39.

40.

etc.
---
When signing up, fill out this form:
Username:
Timezone:
Colour: #------
Please provide your colour in hexadecimal format (#FF0000, #BEEEEF, etc). A very useful colour picker can be found
here
. You can provide the name of your colour yourself, or use
this tool
to generate one. Try to pick colours that are unique from others!
If you can commit to drawing a very simple doodle like the examples shown once a week, this tourney is for you! In order to do this tournament, we'll need like a minimum of 8, but I'll expand the number to accommodate more people as needed.
Remember to have fun and happy scribbling!
Last edited: