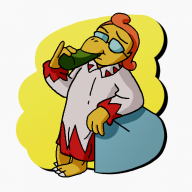 kero?
Chat Administrator
Core 'Shroom Staff
Awards Committee
Current Planned Games
Game:
Hint Hunt
Date:
Starting June 12th
Host:
The Pyro Guy
Game:
Mario Awards Scribble Deathmatch
Date:
Sometime in June
Host:
GBAToad
Game:
Minecraft Games
Date:
August 27th-29th
Host:
Uniju
and friends
Game:
Killing Game
Date:
???
Host:
???
If you would like to run a tournament under the umbrella of Awards season, there's a few things to keep in mind:
*The entire duration of the game should be held between June 1st and August 31st. Exceptions apply, but generally speaking keep it within the season
*Know what you're hosting well enough to be able to host it! To help verify this please send either
@Sou Hiyori
(Turb) or
@Anton
(Anton) a copy of what your initial post will be, including prospective rules, start and end date, and basic structure.
*Once we give it the OK, feel free to post your tournament idea in this board to gauge interest in it. Please only run a tournament if you know it will have enough people to be successful.
*If you're old enough to remember Tokens and Prizes, those have been discontinued. If you would like to offer prizes for your tournament it is out of your own power and volition, although Awards Staff will be available for assistance in acquiring, distributing, and verifying them.
We are here to help you get your tournament running and help get people interested in it, but not to run your tournament for you. The goal with awards tournaments is to foster community involvement, have some fun, and hopefully make new friends along the way!
Please feel free to use this topic as a general discussion area specific for tournament comments, questions, and ideas.
Last edited: