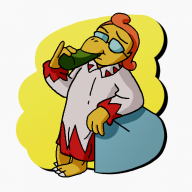 kero?
Chat Administrator
Core 'Shroom Staff
Awards Committee
We are looking for ~10 focused, hard-working community members to join the 2021 MarioWiki Awards Ceremony Committee. The Awards Committee's main focus is the creation of the polls in June, but they will be responsible for decisions related to the entire anniversary event, including but not limited to tournaments, presentations, and overall AC policies and structure.
Meetings will begin
Friday, April 16th 8:00pm-10:00pm EDT
, and are held in
#mwikiawards on Darkmyst (irc.darkmyst.org)
unless otherwise stated. If you don't already know how to join that channel,
click this link, enter your name, and then type "/join #mwikiawards"
. Following meetings will alternate Friday/Saturday nights with care to avoid 'Shroom meetings, deadlines, and other potential conflicts, and are subject to change to accommodate. An exact schedule will be posted once it is determined and will be available in both the public and staff Awards boards on the forum.
There are a few minimal requirements to be an AC member this year:
*
You must be a forum member. We will be utilizing an underground forum to discuss topics in more detail and keep track of progress. The ceremony takes place on the forum, afterall!
*
You must be active and in good standing with the community; applicants will be screened by Awards staff and past AC members. You must exercise basic judgment and common sense to be allowed on the committee. Committee members represent the Super Mario Wiki, so we expect a basic level of maturity, intelligence and kindness towards others.
*
You should at least try to attend meetings/vote in them, but if you are unable to attend meetings due to time conflicts or time zone differences please be sure to still post in the board regularly and keep updated. With a smaller AC we are hoping to have a tighter group of continually active members.
*
You are expected to vote/voice abstention in staff board polls, as well as participate in discussion,
in a timely manner
.
While it is not a formal requirement, if you sign up for the AC please be willing to do at least one presentation. Only confirmed AC members will be given a vote in meetings but meetings are open to the public, so you can drop in even if you aren't a committee member! We do value what everyone has to say, including non-AC members, so even without a formal vote your voice will surely count and your ideas will be sincerely considered.
To sign up, send a PM to
Anton
and/or
Turb
letting them know that you are interested in joining the committee, including details such as:
*A brief explanation why you want to join the AC and why you'd be a good fit.
*Any potential scheduling conflicts. This likely will not work against you but is just to figure out scheduling (i.e. can't make Friday meetings, live in a time zone that's outside the US, etc.)
*Ideas or suggestions you may have.
The application doesn't have to be anything fancy
; we just want to be sure that you're committed more to working as a team than you are getting purple stars. In fact, most people who apply are accepted, and this process is just a precautionary screening for intent and seriousness. Applications are due by the
end of April 4th Midnight EDT
. Anton and Turb will post the final AC member list by
April 8th
and will provide staff board access shortly afterwards.
The Awards Committee is the only thing you can sign up for at the moment. Depending on its decisions over the next few months, other projects will emerge in June, and you will be able to sign up for them as well. Announcements regarding these projects will be posted on this page or the public forum board, so if you are interested, keep an eye on at least one of them.
Thank you, and we'll see you around a bunch more in the upcoming months!!