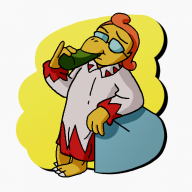 kero?
Chat Administrator
Core 'Shroom Staff
Awards Committee
Discuss general things here

This OP will be updated periodically, with other updates in new posts.
Chat Party logs
courtesy of Ltq!!!
---
Awards Ceremony
Friday, August 13th, 2021
To access the Awards channel on Discord, just click
this link
to enter the Super Mario Wiki Discord Server and click on the #mario-awards channel.
To access the Awards channel on IRC, just join the server 'irc.darkmyst.org' in any irc client and join #mwikiawards. You can also join it by using the wiki's
WebChat applet
and typing "/join #mwikiawards" after you get in, or just simply click this
direct mibbit link
or
KiwiIRC
!
If you have any trouble, please let us know!
August 13th
Chat Party - 2:00pm EDT / 6:00 pm UTC - Timestamp:
Community Awards XIV - 3:00pm EDT / 7:00 pm UTC - Timestamp:
Fail Awards XIII - 4:15pm EDT / 8:15 pm UTC - Timestamp:
Mario Awards XV Part 1 - 5:55pm EDT / 9:55 pm UTC - Timestamp:
Mario Awards XV Part 2 - 7:25pm EDT / 11:25 pm UTC - Timestamp:
Community Awards XIV Opening Script - 3:00
- - Hooded Pitohui
C1 - Favorite Active 'Shroom Writer - 3:05
- - Shoey
C4 - Favorite 2020 Awards Presentation - 3:10 - - Ltq
C7 - Favorite Community Event 2020-2021 - 3:15 - - TPG
C2 - Favorite Retired 'Shroom Writer - 3:20 - - Hooded Pitohui & Luigi 64DD
C9 - Favorite Written 'Shroom Section of the Past Year - 3:25 - - Magolor04726
C5 - Wiki Contributor Awards 2020-2021 - 3:30 - - Power Flotzo
C3 - Favorite Artist - 3:35 - - Goombuigi
C6 - Favorite 'Shroom Team - 3:40 - - The Pyro Guy
C8 - Best 'Shroom Section Design - 3:45 - - Roserade
C10 - Outstanding Community Achievement Award - 3:50
- Roserade & Hooded Pitohui
Community Awards XIV Closing Script - 3:55
- - Hooded Pitohui
Fail Awards XIII Opening Script - 4:15
- - Turboo
F1 - Worst Character - 4:20
- - Koopa con Carne
F6 - Worst Spin-off - 4:25 - - Roserade
F13 - Worst Remake - 4:30 - - Reverse Input
F8 - Worst Mario Kart Course - 4:35 - - Toadgamer
F14 - Worst Setting - 4:40 - - Ray Trace
F9 - Worst Direction of Series - 4:45 - - Zange
F3 - Worst 3D Level - 4:50 - - Fawfulthegreat64
F10 - Worst Game Mechanic - 4:55 - - Ninja Squid
F4 - Worst RPG Area - 5:00 - - Koops
F12 - Worst Game Objective - 5:05 - - GBAToad
F2 - Worst 2D Level - 5:10 - - Koops
F7 - Worst Enemy - 5:15 - - Gabumon
F5 - Worst Level Concept - 5:20 - - Hooded Pitohui
F11 - Most Shameless Business Decision - 5:25 - - Waluigi Time
F15 - Most Disappointing Game - 5:30
- - TPG
Fail Awards XIII Closing Script - 5:35
- - Turboo
Mario Awards XV Opening Script - 5:55
- - Anton
M1 - Best Sound Design - 6:00
- - Koops & Luigi 64DD
M18 - Favorite Mario Party Game - 6:05 - - Turb
M13 - Favorite Level Theme - 6:10 - - Waluigi Time
M4 - Favorite Mario Kart Course - 6:15 - - Goombuigi
M8 - Favorite Art Style - 6:20 - - Koops
M22 - Favorite Mario Party Board - 6:25 - - FWD
M9 - Favorite Add-on Content - 6:30 - - TPG
M19 - Favorite Villain - 6:35 - - Toadbert & tfp
M17 - Favorite Mario RPG - 6:40 - - Kirbyo
M5 - Favorite DK Music Track - 6:45 - - Toadgamer
M28 - Favorite Game Setting - 6:50 - - Anton
M6 - Favorite Wario Music Track - 6:55 - - Superchao
M2 - Favorite Mario Kart Game - 7:00 - - Luigi 64DD
M21 - Favorite Puzzle Game - 7:05 - - Zange
M29 - Favorite Classic Game (GCN/GBA and older) - 7:10
- - Gabumon
Intermission
- Anton
M25 - Favorite 2D Mario Level - 7:25 - - InsaneBlathers
M10 - Favorite Mario Lyrical Song - 7:30 - - Zange
M3 - Favorite Mario Platformer - 7:35 - - Ninelevendo
M16 - Favorite Item - 7:40 - - Power Flotzo
M7 - Favorite Yoshi Music Track - 7:45 - - Zange
M26 - Favorite 3D Mario Level - 7:50 - - Waluigi Time
M27 - Favorite Boss Battle - 7:55 - - BBQ Turtle
M11 - Favorite Major Character - 8:00 - - MrConcreteDonkey
M23 - Favorite Game Mechanic - 8:05 - - Reverse Input
M14 - Favorite Species - 8:10 - - Hooded Pitohui
M20 - Favorite Sports Game - 8:15 - - Ninelevendo
M12 - Favorite Supporting Character - 8:20 - - Bazooka Mario
M15 - Favorite Mario Instrumental Track - 8:25 - - TPG
M24 - Favorite Merchandise - 8:30 - - Snack & Woglril
M30 - Favorite Modern Game (Wii/DS and newer) - 8:35
- - Waluigi Time
Mario Awards XV Closing Script - 8:40
- - Anton
Important Links:
Anniversary Wiki Page
Schedule
Full List 2021
Historical Results (2007-2014)
Historical Results (2015-present)
2020 Complete Results
Full List 2020
2021 Complete Results
Last edited: