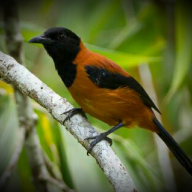 The Bird with Batrachotoxin!
Core 'Shroom Staff
Awards Committee
Poll Committee
???
"Yes sir, yes sir, quarterly profits are up from last year. Yes sir, that's right. Being forced out of the valley
was
a setback. After we lost that location, we lost nearly eighty percent of our contracts with the farmers in the region. It had taken years of expansion and negotiation to secure contracts at the prices we needed." *
Sigh* "
Seeds, milk, vegetables, cheese, wool, mutton, steak... we haven't found a new supplier yet who will sell those goods to us at the prices we need to be able to offer our customers and family the affordable prices we pledge to offer."
---
???
"What's that? You've secured a new supply of mutton and wool, wholly owned by us? I'm to oversee their care and the distribution of their products to the store?"
---
"With that being the case, you can rest assured that I will ensure our new sheep are cared for by responsible handlers and their products are distributed to our stores promptly by our transport flee-"
---
"-What?! The farmer vacated the property upon signing the contract? The sheep are roaming the fields unsupervised? Has the staff not been dispatched?"
---
"Oh... I am to... Yes, yes sir, I see. For three to four weeks? Yes... sir. I understand completely, sir.
I have received my role
, and as an employee of the Joja Corporation, I shall see to it that not a single one of our new assets is harmed."
---
"You are the sheep I'll be guarding? In that case, we should acquaint ourselves early. Once we're working, there will be little time for idle chit-chat."
"Hello, new members of the Joja Corporation family! My name is Morris, and, on orders from my superior and for the benefit of our just and kind company, I will be supervising you in the following weeks. Now, rest assured that you are now considered valued members of our family, and you will be treated with the utmost care and respect. Our employees - and our livestock - are our greatest assets. So long as we all work diligently, we should have no trouble repelling those vile wolves threatening us. I pledge, on the reputation of the Joja Corporation, that I will not let a single member of our family suffer even a single injury at the fangs of these vile wolves!"
---
"All of that established, allow me once again to welcome you to the Joja Corporation family. Now, shall we get to work?"