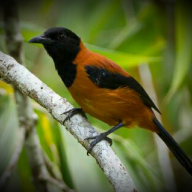 The Bird with Batrachotoxin!
Core 'Shroom Staff
Awards Committee
Poll Committee
Last night, Shmaluigi's investigations turned up conclusive evidence on the identity of one of the mafia members still among us. Someone who seemed to be an ally this whole time. Shmaluigi is disappointed to say this, but... Ladies and gentlemen, the identity of this mafia member is none other than... MS. EMA SKYE!

Shmaluigi doesn't really have much more to say besides "you're lousy". Vote: Pitohui.
Ema Skye
Mr. Shmaluigi! What kind of an accusation is this? After evaluating all of the evidence that we've collected up to this point, I would never call into question your skills as a detective, but something is amiss here. Surely no one else would believe this claim, not
after they've seen me defend you
- now a confirmed innocent citizen - on our first day together, or after they've
seen me contribute to the lynching of Prosecutor Godot
- a confirmed member of the mafia - yesterday.
Unless...
---
Ema Skye
Of course! A detective as skilled as you would have a logical reason for this. It's clearly a trap, isn't it? You intend to accuse me, even going so far as to pressuring me with a vote, to lure out the members of the mafia. The informed citizens will know, of course, using
the evidence I previously cited,
that I can only be innocent. You were hoping that the two true members of the Mafia, Mr. Marshal and the Yoshi, would immediately join you in voting against me, exposing their corrupt machinations. Great work, Mr. Smaluigi! But I think we can end this charade, don't you? We know the identities of the two remaining mafia members. There's no further need for traps like this. I'll even demonstrate my confidence by electing to vote: Cat Glitz Yoshi.