The True Power Master
Wiki Administrator
Core 'Shroom Staff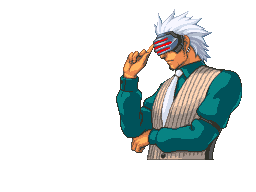 Godot
I'm not sure what much more there is to say. I do believe Mr. Goose and Mr. Shamluigi are working together, but... Not in a usual way. Did Mr. Goose claim Shamluigi's innocence for the fun of it? If the Goose is mafia, the other two members wouldn't contest his claim, but then that would mean that someone else has the Ms. Mowz role... Someone who probably wouldn't be paying much attention... I have yet to see BlueBerry, Sven, and Flotzo in the middle of this, so possibly one of them has the actual role?
Aside from theoretical, I don't know what more I can say to convince you of my innocence. All I know is Mr. Shamluigi is not who he says he is. And he is doing a very good job at hiding that.
On the other hand, Prosecutor Godot claims to have withheld his information because he had, according to my citation, "no use for it." That's unusual, but not necessarily untrue. Claiming to be someone so important would make you a target of the mafia, so if you had nothing useful to share, there is reason to wait before sharing it.
To expand more on this point, however, I'll say Mr. Shamluigi has done the same thing. None of the information we collected was made apparent until necessary. I wouldn't say it's unusual, though it would probably be deemed unhelpful to the townspeople. But at the same time, how would they know we'd be telling the truth? All we have to go off of is our word, after all.
So, I had no use to clear the Blooper's name because the Blooper was not a suspect. I had no reason to clear Mr. Duck's name because he was already dead and everyone knew that already. If I would be able to read Mr. Goose's rolecard tonight, I can know for certain whether he's telling to truth or lying. Right now... it reads to me like it's a mix of both.