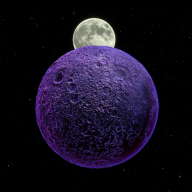 A grey cat with colorful eyes
I'm going to be very blunt, direct, and serious for my current critique of this project, because from how I see it, it's going to be doomed to fail if you keep this up. And I really hope this harsh critique doesn't fall on deaf ears this time around, after my sister has constantly pointed out that you're building idea upon idea without any actually results from the first and most important priorities.

If you want to make a legit game out of this, you absolutely need a basic foundation first, something you have repeatedly ignored concerns of in this thread in favor of creating ideas, ideas that aren't even close to even actual conception. You can't just constantly cram ambitious fancy idea on top of another amibitious fancy idea when you don't even have a base to build it off of. You don't even have a working single character, let alone, a basic character with basic moveset, let alone a working engine to work from, so honestly, what makes you think you can integrate online play with full Mii customization and 50 fully-fledged playable characters with a single character having different final smashes depending on what character he has sucked in out of the 50 if you can't even get a single character and basic attacks and making sure the game doesn't, like, break early on. You don't even have a main menu to showcase this game off to even start with.

Lay off the ambition and tone the hell down on your ideas. Make your game actually workable first rather than constantly attempting to integrate a lot of ideas that work only if you have a good structure to build it upon. Even more organized projects with a bigger team of people such as Super Smash Bros. Crusade or Rivals of Aether have far smaller ideas and content than your hypothetical game has, but they're much more impressive than your ideas since they're actually real projects and not just an amalgamation of hypothetical concepts and ideas.

I'm not writing this to demotivate any of you of course, but sometimes, you have to let reality set in. You've already posted how difficult it is for animations just for Mario, now imagine doing that sort of thing with 50+ characters.
Final Smashes, Fighters, Stages and the Adventure mode are
base
content. Stuff like little details (we can' confirm Mii customization just yet) will be included if we can. Everything needs to be planned. I am not making this observation less, I wanted to clarify. Characters, their movesets and gimmicks, Stages and their gimmicks, Final Smashes and Story Mode, its stages, story, location and characters are part of the base game. We cannot confirm the following:
— Smash —
- Special Smash
- Super Sudden Death
- Tournament
- Items
— Solo —
- Home-Run Contest
- Mii Fighters
— Vault —
- Replays
- My Music
- Challenges
- Milestones
— Story Mode —
- Special Stages
We can de-confirm the following:
— Smash —
- One-Button Melee
— Solo —
- Race to the Finish
- Smash Run
- Stage Builder
— Story —
- Spirits
- Stickers
Also, DO NOT EXPECT THE GAME TO RELEASE SOON. This will take some years (About 4). Before you tell me, the game only needs to enter development phase so you can see proof of its existence. We'll use a test character in a test stage. We'll first need to get the engine working and we can proceed to make a test character and a test stage. After the test character and stage are shown to you alongside the engine, we can then start with the characters. Thank you
@Penguin Mario
and
@Dark Light
for your comments on the game.