Now that the dust has settled a little, I want to be able to give my thoughts on this game. I've been in and out of this community for around nine years now, and in that time I've seen or participated in a number of community events, with huge amounts of love and dedication flooding in from every side and every user. I believe it is fair for me to make the following statement, then. Perhaps it is bold (heh), and perhaps you may disagree, but...
For me, I wholeheartedly feel that
Awards Killing Game 4 has been the greatest community event the Marioboards has ever had.
I cannot emphasize enough how absolutely awe-inspiring this game has been. Its craftsmanship, its character, its dedication both by hosts and users alike has made a magnum opus of an experience I'll be damned if anyone tops. This event right here is what this online community was made for. It is incomparable how valuable I view AKG4 for everyone. It has brought closure to a story four years in the making, it has unified and connected more users in traditional Killing Game fashion, and it has nearly perfected the Killing Game formula as a whole. Do I have my criticisms of the game? Probably, but for every small instance of grievance, there are thirty incredible things to trump it. This game makes me proud to be a member of the Marioboards.
Thank you. Thank you to our absolutely phenomenal hosts for every second of effort they put into this game. Stylistically, every asset and character was a work of art. Mechanically, the game was a sound experience that put emphasis on balance and unique concepts and managed to pull off both. Narratively, every story beat worked, and felt like an extension of what had come before. This was the best Killing Game the Marioboards has ever played, and its formation is entirely because of your nights of being up until two am and frantic scribblings in the middle of cases. The amount of love that's here is tangible.
Thank you to the astounding cast of players. While everything can be charted perfectly from a host's perspective, it is the players who truly make or break a Killing Game, and this player pool delivered. Absolutely the most diverse and most fun group of dupes the Marioboards have seen thus far, and the willingness to play off of each other and make it an enjoyable experience for everybody was fantastic. Your patience with the hosts was much appreciated from their end, I'm positive, as was your commitment to truly and thoroughly playing the game.
Thank you to absolutely everyone involved, for letting me sniff Pitohui for durians and lick corpses and try to layer four fake attempts on top of each other and simp for a cute Magikoopa girl while playing a rooty-shooty Ace Attorney man. Thank you for seeing a game through to the end where Bill Cipher defeats supercomputer ai Bugs Bunny in a suit while a robotic time-travelling Vera Misham, five men trapped in one Yu-Gi-Oh character, a travelling salesman looking to get ripped, and the attractive cousin of Ernest Cline escape back to the 'Shroom HQ of the past via a car wash. I wouldn't have it any other way, and I loved every moment of it.
.
.
.
Tucked away into the back corner of Kammi's Office rests a picture frame. With cracks along the glass and the smudged remains of a question mark drawn on its front, it looks like it's seen the end of times. Yet, almost by determination alone, the picture frame remains intact. Inside the frame resides a picture of a soul of the past, someone who no longer remains tethered to this world. His nonchalant grin and the way his hand tucks his hat indicates confidence, but there exists a sense of tenderness to his eyes. One wonders just who this desperado could've been.

There's one more secret to this picture, however. Behind the picture hides a note, its handwriting sharp and somewhat sloppy. It seems to be a piece of evidence that was never used in a trial.
Mysterious Letter
added to the Court Record.
I wonder what it could read?
>
A: Check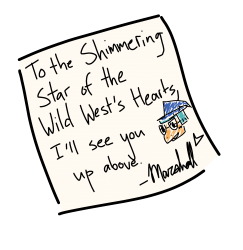 ​