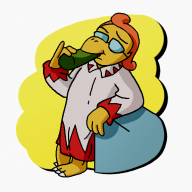 kero?
Chat Administrator
Core 'Shroom Staff
Awards Committee
What:
Hey guys, for Issue 150 I'll be starting a Critic Corner Movie Night where I (or someone else) will host a viewing of some kind of movie, show, game, whatever! Following the results of the short poll I took in a previous 'Shroom issue, I have compiled a list of Things People Want To Watch:
Brooklyn 99
Salo, or the 120 Days of Sodom
Mulan
Mean Girls
The Mask
Meet the Robinsons
The Good, the Bad and the Ugly
Love Live! Sunshine!! The School Idol Movie: Over the Rainbow
Evolution
Spider-Man (2002)
Out of this list, everything I have in bold is something I have current and immediate access to. I do have a basic Hulu package, Netflix, and Movies Anywhere (personal Disney collection, will be replace with Disney+ in November). I also have my own personal collection that I have received from Alternative Sources

that I could probably stream straight from my own screen. I may have access to the others, but it would take more work, finding it on other sites, or someone else hosting. And, of course, this list can be expanded upon or deviated from during any viewing!
---
Where:
With the recent downfall of rabb.it, it has been a little difficult finding an alternative, but luckily Kast popped up just in time. You are able to
download the app on desktop
for Windows or Mac, or can just use it in-browser so long as that browser is Chrome.
Here is a link to the Party I've set up so far
. As I'm new to this and figuring out how the program works, things may change.
---
When:
Along with continuing to build on what we all want to watch together, for these Issue 150 viewings we need to settle on a schedule. Ultimately my own schedule will serve as the base for it, which is pretty predictable but still can change with each week. I am generally available to watch stuff:
Sunday: 4pm - 10pm EDT
Monday: 4pm - ??? EDT
Tuesday: All Day*
Wednesday: ??? - 10pm EDT
Thursday: 4pm - 10pm EDT
Friday: 4pm - 10pm EDT
Saturday: 4pm - 10pm EDT
These times may be relatively brief or inconvenient, and subject to whenever I am actually awake or not busy with something else, but can otherwise be somewhat flexible especially if someone else is able to take the reigns with hosting if people want to keep going after I have to go to bed or before I get back from work. As we get closer to 150's release, viewing times will get more and more sorted out as they're discussed here or wherever, and I'll update this OP with confirmed Movie Night times.
---
Bonus:
Now, the optional catch! With this being a celebration of The 'Shroom achieving its 150th issue, and part of Critic Corner's bit in celebrating this, I figured it would be neat that anyone who came and joined us in watching whatever we watch could write a little review to be put in a special section for Issue 151 or 152 (or others!). I don't expect people to do this, nor am I demanding that whatever is written be a whole fleshed-out section (although it can be if you want!), but just a little "hey we watched Mulan and I really liked all of the songs in it!" or something for a few sentences or paragraphs to show your support for our little monthly publication we work hard on year-round! I would really appreciate and enjoy anyone who takes the time to participate in this!!
If there are any questions, comments, concerns, anything at all feel free to post them in here or message me!
Last edited: