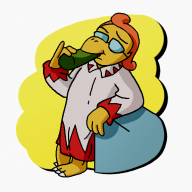 kero?
Chat Administrator
Core 'Shroom Staff
Awards Committee
Discuss general things here

This OP will be updated periodically, with other updates in new posts.
---
Complete Results
---
Chat Party logs
The Chat Party will take place in #mwikiawards on Darkmyst (irc.darkmyst.org). To access it if you otherwise don't know how,
click this link, enter your name, and then type "/join #mwikiawards"
or
this link and enter your name
. The Chat Party is basically there for direct access to Awards Staff as the event goes on where we post minute-by-minute updates on what's going on currently and what's coming up. You are more than welcome to also use Discord, though we will not be maintaining an active feed on that this year (maybe next year!) If you need help, feel free to ask.
I do encourage you to post commentary on results and presentations within the ceremony topics that will be created a little bit before they all begin, as that is where they will be most seen by the presenters as the event is going on and after!
---
August 16th
Chat Party - 2:00 pm EDT / 6:00 pm UTC - Timestamp:
Community Awards XII - 3:00 pm EDT / 7:00 pm UTC - Timestamp:
Fail Awards XI - 4:10 pm EDT / 8:10 pm UTC - Timestamp:
Mario Awards XIII Part 1 - 5:45 pm EDT / 9:45 pm UTC - Timestamp:
Mario Awards XIII Part 2 - 7:10 pm EDT / 11:10 pm UTC - Timestamp:
Community Awards XII Opening Script - 3:00 - - Superchao
C1 - Favorite Active 'Shroom Writer - 3:05 - - Tucayo
C5 - Wiki Contributor Award 2019 - 3:10 - - Meta Knight
C3 - Favorite Artist - 3:15 - - Anton
C7 - Favorite 'Shroom Core Staff - 3:20 - - Hooded Pitohui
C8 - Best 'Shroom Section Design - 3:25 - - Lakituthequick
C6 - Favorite 'Shroom Team - 3:30 - - Roserade
C2 - Favorite Retired 'Shroom Writer - 3:35 - - Hooded Pitohui
C4 - Favorite 2018 Awards Presentation - 3:40 - - Chibiki Daisy
C9 - Favorite Written 'Shroom Section of the Past Year - 3:45 - - Roserade
C10 - Outstanding Community Achievement Award - 3:50 - - Gabumon & Roserade
Community Awards XII Closing Script - 3:55 - - Superchao
Fail Awards XI Opening Script - 4:10 - - Turboo
F1 - Worst Character - 4:15 - - MsRetroGeek
F10 - Worst Game Mechanic - 4:20 - - Smasher
F14 - Worst Setting - 4:25 - - GBAToad
F7 - Worst Enemy - 4:30 - - The Pyro Guy
F11 - Biggest Missed Opportunity - 4:35 - - Uniju
F4 - Worst RPG Area - 4:40 - - Alex95
F9 - Worst Direction of Series - 4:45 - - Gabumon
F2 - Worst 2D Level - 4:50 - - Meta Knight
F8 - Worst Mario Kart Course - 4:55 - - Shy Guy on Wheels
F13 - Worst Remake - 5:00 - - Roserade
F3 - Worst 3D Level - 5:05 - - Epic Nitwit
F12 - Worst Game Objective - 5:10 - - Smasher
F5 - Worst Level Concept - 5:15 - - Turboo
F6 - Worst Spin-off - 5:20 - - Mayan Ryan
F15 - Most Disappointing Game - 5:25 - - Mayan Ryan
Fail Awards XI Closing Script - 5:30 - - Turboo
Mario Awards XIII Opening Script - 5:45 - - Anton
M1 - Best Sound Design - 5:50 - - Smg2daisy
M27 - Favorite Boss Battle - 5:55 - - YoshiFlutterJump
M2 - Favorite Mario Kart Game - 6:00 - - Lakituthequick
M10 - Favorite Lyrical Song - 6:05 - - Chibiki Daisy
M13 - Favorite Level Theme - 6:10 - - The Pyro Guy
M3 - Favorite Mario Platformer - 6:15 - - Fawfulthegreat64
M21 - Favorite Puzzle Game - 6:20 - - Chibiki Daisy
M24 - Favorite Costume - 6:25 - - MsRetroGeek & Meta Knight
M5 - Favorite DK Character - 6:30 - - Epic Nitwit
M18 - Favorite Mario Party Game - 6:35 - - Hooded Pitohui
M23 - Favorite Capture - 6:40 - - Owencrazyboy9
M20 - Favorite Sports Game - 6:45 - - Smg2daisy
M4 - Favorite Mario Kart Course - 6:50 - - Chibiki Daisy
M11 - Favorite Major Character - 6:55 - - Luigi 64DD
M29 - Favorite Classic Game (GCN/GBA and older) - 7:00 - - Meta Knight
Intermission
M14 - Favorite Species - 7:10 - - Lakituthequick
M9 - Favorite Add-on Content - 7:15 - - Toadbert101 & Super-Yoshi
(Part 2)
M17 - Favorite Mario RPG - 7:20 - - ArchagentEverlasting
M19 - Favorite Villain - 7:25 - - MsRetroGeek
M16 - Favorite Item - 7:30 - - Smg2daisy
M22 - Favorite Battle Course - 7:35 - - Gabumon
M15 - Favorite Instrumental Track - 7:40 - - Anton
M7 - Favorite Yoshi Character - 7:45 - - Turboo
M25 - Favorite 2D Mario Level - 7:50 - - Epic Nitwit
M12 - Favorite Supporting Character - 7:55 - - Superchao
M26 - Favorite 3D Mario Level - 8:00 - - Alex95
M28 - Favorite Game Setting - 8:05 - - MsRetroGeek & Meta Knight
M6 - Favorite Wario Character - 8:10 - - GBAToad
M8 - Favorite Art Style - 8:15 - - BBQ Turtle
M30 - Favorite Modern Game (Wii/DS and newer) - 8:20 - - Snack
Mario Awards XIII Closing Script - 8:25 - - Anton
Ceremony
Friday, August 16th, 2019
Important Links:
Anniversary Wiki Page
Schedule
Historical Results (2007-2014)
Historical Results (2015-present)
2018 Complete Results
Full List 2018
Full List 2019
Token Sheet 2018
Last edited: