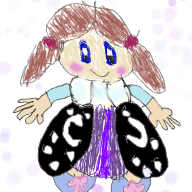 Forgive me like doughnuts!
Jason: Dad, you're acting very weird thanks to all that alcohol you drank. Are you ok?

: I'm fine, Jason. Now, just leave me alone. I'm trying to get the girls to notice me.
Jason: Ok. But you shouldn't be acting like this.
*Jason goes back to the dance floor*

: I don't think Oxide's going to impress any girls.

: Yeah. Look at how drunk he is.

: Look at how weird he's acting.

: Look at how he's almost tripping when he walks.

: He's never going to impress any girls like that.
: Yeah. I hope Peach drags him out of here.

: She probably will, Toadiko. Peach doesn't like drunk people.
*Meanwhile, on the dance floor, Oxide does some complex dance moves to try to impress some girls. However, as soon as he finishes, they reject him*

: So, Toadette and Jason are right. The girls aren't impressed at all by my complex dance moves. Well, I guess I must try what everyone else is doing. Just asking people to dance. I'll try it on Toadette. Hey, Toadette, do you want to dance with me?
: Absolutely not! Take this!
*Toadette flings her hair towards Oxide. Oxide gets hit by her hair, flying very far away from Toadette, only to be catched by Jason*
Jason: Dad, you're not acting like you should be and you're embarrassing me way too much! I'm through with how you're doing this!
*Jason storms out of the castle with the uncautious Oxide in his arms*
Last edited: