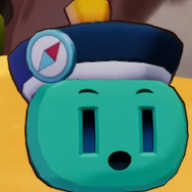 I'm Yoshi the Space Station Manager from the wiki.
Toad: "The Pi'illo then becomes normal again."

Pink Pi'illo: "Thank you for saving me! My spirit quailed, but I had faith I would be saved! (sees Dreambert) Oh, my feathers! Your Royal Highness! It's been an age! Sire, did you trouble yourself to bring me back?"

Dreambert: "'Twasn't me, no… 'Twas Mario!"

Pink Pi'illo: "Ah, Mario! My thanks!"

Dreambert: "Now. Back to what we are doing. This isn't the Pi'illo that has a way to Rosalina. The Pi'illo's name Eldream."

Pink Pi'illo: "Oh… Perhaps the elder? Eldream, the Pi'illo elder… He might be of help… His mind holds all that is known of the dream world… Doubtless he will bring some enlightenment to you."

Luma: "OK, then. But, first we need to get out of here…"

Pink Pi'illo: "Ah! Of course… (goes to the gate) Click! (Everyone has exclamation marks as the floor gets lower) Follow this path to ascend from the underground!"

Luma: "Thank you."

Dreambert: "One down, two more to go in order to get to Mushrise Park."