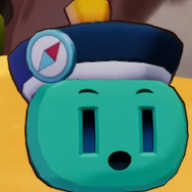 I'm Yoshi the Space Station Manager from the wiki.
Smoldergeist: "… … … Don't expect things to remain easy… For only now does the true test begins! Yes, you heard me! And you must do this trial thrice!"

Toad: "The nearby block then becomes a long ? Block, several blocks appear.

Smoldergeist: "Both red and green suffer… Brains ache with effort… In the depths of despair, here you will surrender…"

Toad: "The blocks become regulars with Ms and Ls."
Last edited: