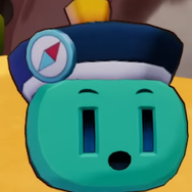 I'm Yoshi the Space Station Manager from the wiki.
Sonic: "Cool. I am good at mashing buttons at great speeds. This should be quite easy. (starts mashing) Real easy."

Erazor: "This technology. How does it work? (starts mashing) Oh. This seems pretty simple. I can get use to this."

Daisy: "Mario Party has taught me how to mash quickly. (starts mashing) Not going to end up in last, that is for sure."

Blue Toad and Captain Toad: "Yeah. You guys are better mashers. (starts mashing) Let's see how we do."

Mr. Y who came with Mario, Luigi, and Mr. M: "I wonder why Yoshi the SSM isn't here. I can see that an invitation was sent to him. (starts mashing) Who knows. Maybe I will get confused with him. And any money that I win will be split with him."

Toad: "Meanwhile at the desert..."

Mr. B: "We are getting close to the grasslands. (sees the Shroobs) Huh? Oh. Right. Shroobs."

Mario Goomba: "No! Not the Shroobs! They were a pestilence many years ago and quite recently."

Luigi Goomba: "Um... I don't see their weakness anywhere. Since this is a desert. Their weakness is water."

Mr. B: "I know that. I can sense the presence of evil doers. I don't want them to get in my plans. Also. These Shroobs were from the invasion years ago when Mario and Luigi were just babies."

Elder Princess Shroob in E after coming close: "Hello there. My name is Elder Princess Shroob. And this is my sister Princess Shroob. You look kind of like Bowser, you know."

Mr. B: "(to himself) She's talking to me. Ahem. (to EPS) Of course I look similar. I am the perfect person of the Mr. tribe to control Bowser. My name is Mr. B. I am sensing that you are going to Peach's Castle and dropping Shroobs in the locations you come to. I can sense evil doers. I have no interests in your plans. Nor to stop you guys."

Princess Shroob in SL: "Sister. I think I can see a city in that direction. I am seeing something is going on there."

Elder Princess Shroob: "(SL) Oh. Maybe it's a party. We should probably crash that party. (E) Thanks. Also. We are going to go to that city since there is a party there that we will crash."

Mr. B: "OK. I think I will go with you guys. And help you guys crash this party."

Toad: "And the group starts heading towards Diamond City."