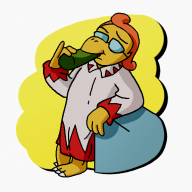 kero?
Chat Administrator
Core 'Shroom Staff
Awards Committee
In a continuous effort to improve, please tell us things that could be changed, or new ideas, new awards, nominees, what worked, what didn't work, anything, we will look over everything posted in here.
I'll start:
*Fix poll sorter so "Game" isn't used in every table for things that aren't games; Nominee? Entry?
*M8 Retro/Modern 2D Promotional Artwork style?
*Switch F11 Biggest Missed Opportunity into something like Biggest Disappointment so the write-ins can be more open and valid, or just remove it entirely?
*Change up F9 Worst Direction of Series because it's becoming too nuanced for an award that forces generalization?
*Merge Tanooki Suit and Super Leaf (3D games)?
*M10 Favorite Song - Allow instrumental songs? Clarify name? New award to replace Sound Design?
Also general reminder to everyone that while we do our best to prevent it, typos and mistakes happen. I like to look at how we've moved from having errors such as how entire results would be incorrect in the results list, numbers wouldn't add up, things in the wrong place, duplicate entries that weren't merged, things that don't exist, etc., and instead have moved to maybe a grand total of 3 typos that were just one missing letter or something not capitalized when it should be or vice versa. There's not really much that can be done to prevent human error beyond evolving to mechanisms immune to fatigue, so let's keep it focused on things we can change.