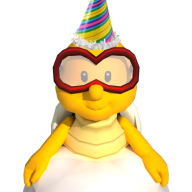 Celestial Guide
Core 'Shroom Staff
Awards Committee
Hello and welcome to the second
Anniversary Scavenger
!
In this game, you will be scavenging for a bunch of small collectibles, spread across this and other boards, and a few related places!
Cards
This year's collectables are cards instead of last year's stickers!
There are 75 in total to be found at the end of the month.
How to find them?
Cards aren't just themselves placed large in plain sight. You will generally find them tucked away in a hidden, yet recognisable form. This form can, but doesn't have to look like the card itself.
Examples include a smiley that looks slightly different, or Mario & Luigi-style beanspots.
When you find one, simply click on it, and it will be added to your album. Additionally, it will be marked with a green spot when you return to it later.
Where to find them?
You will find them mostly on this board, but some will also appear in other boards, and even in The 'Shroom. Note that not all of them can be found yet, as cards will also appear within presentations on the ceremony or in future tournament game posts.
For some you'll have to dig a little deeper as well.
If it appears that some cards are not found as often as others, I will be giving out some hints to help find them.
Signing up
By default, you won't see the cards laying around. After you sign up here, you will receive a PM from me with an activation link to your album. From that point onward, you can go forth and catch 'em all!
You can even click that link on multiple devices and/or browsers and you can continue there!
Album
You will get a personal album for your cards to review. You can access it after visiting the activation link in my PM.
In this album you will find the cards sorted per category, and clicking on one shows a tattle and when you found it.
If you've activated it in your browser,
click here!
Participants
| | |
| --- | --- |
| Alex95 | |
| BabyLuigiOnFire | |
| BBQ Turtle | |
| Chibiki Daisy | |
| Epic Nitwit | |
| Fawfulthegreat64 | |
| Garlic Man | |
| GBAToad | |
| Hooded Pitohui | |
| Lord Bowser | |
| Luigi 64DD | |
| Meta Knight | |
| Mr. Edo | |
| MrConcreteDonkey | |
| MsRetroGeek | |
| Nabber | |
| rollerC | |
| Roserade | |
| Shy Guy on Wheels | |
| Smasher | |
| Super-Yoshi | |
| Superchao | |
| The Pyro Guy | |
| TheFlameChomp | |
| Toadbert101 | |
| Toadgamer | |
| Tucayo | |
| Turboo | |
| Yoshi the Space Station Manager | |
| YoshiFlutterJump | |
Last finding by:
Shortest period between findings:
Longest period between findings:
Tokens
[tr][td]Found a card[/td][td]
0.25
[/td][/tr]
[tr][td]5-card combo[/td][td]
1
[/td][/tr]
[tr][td]Found a card first*[/td][td]
1
[/td][/tr]
[tr][td]Found all cards[/td][td]
10
[/td][/tr]
[tr][td]Found all cards first[/td][td]
15
[/td][/tr]
[tr][td]Found all cards second[/td][td]
12
[/td][/tr]
[tr][td]Found all cards third[/td][td]
8
[/td][/tr]
[tr][td]Hide a card*[/td][td]
Partial points are rounded up when totalled.
* If one hides a spot and subsequently finds it first, they won't get both bonuses, and the one who finds it first after will still get the found first bonus.
| | | | |
| --- | --- | --- | --- |
| User | Tokens | First found | Found |
| The Pyro Guy | 74​ | 11​ | 75​ |
| Superchao | 74​ | 19​ | 75​ |
| Fawfulthegreat64 | 72​ | 16​ | 75​ |
| Super-Yoshi | 48​ | 4​ | 75​ |
| Garlic Man | 46​ | 2​ | 75​ |
| Tucayo | 45​ | ​ | 75​ |
| Shy Guy on Wheels | 42​ | 12​ | 68​ |
| Mr. Edo | 34​ | ​ | 68​ |
| Chibiki Daisy | 33​ | ​ | 68​ |
| BabyLuigiOnFire | 31​ | 2​ | 62​ |
| Meta Knight | 30​ | 3​ | 54​ |
| Epic Nitwit | 29​ | ​ | 64​ |
| TheFlameChomp | 29​ | 3​ | 57​ |
| Luigi 64DD | 27​ | ​ | 60​ |
| Yoshi the Space Station Manager | 27​ | ​ | 60​ |
| Smasher | 27​ | 1​ | 53​ |
| Alex95 | 23​ | 1​ | 47​ |
| Hooded Pitohui | 23​ | ​ | 42​ |
| Turboo | 23​ | 1​ | 41​ |
| rollerC | 19​ | ​ | 42​ |
| Nabber | 15​ | ​ | 31​ |
| Toadbert101 | 14​ | ​ | 30​ |
| MrConcreteDonkey | 13​ | ​ | 28​ |
| BBQ Turtle | 12​ | ​ | 28​ |
| Toadgamer | 12​ | ​ | 27​ |
| Roserade | 11​ | ​ | 24​ |
| Lord Bowser | 8​ | ​ | 15​ |
| YoshiFlutterJump | 8​ | ​ | 18​ |
| MsRetroGeek | 7​ | ​ | 16​ |
| GBAToad | 6​ | ​ | 8​ |
| Anton | 5​ | ​ | ​ |
| Snack | 3​ | ​ | ​ |
| Raregold | 1​ | ​ | ​ |
| LudwigVon | 1​ | ​ | ​ |
| SiFi | 1​ | ​ | ​ |
| Yoshiwaker | 1​ | ​ | ​ |
| Porplemontage | 1​ | ​ | ​ |
| Glowsquid | 1​ | ​ | ​ |
| DragonFreak | 1​ | ​ | ​ |
| Yoshi876 | 1​ | ​ | ​ |