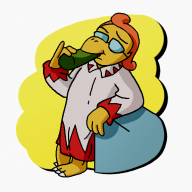 kero?
Chat Administrator
Core 'Shroom Staff
Awards Committee
S
u
p
e
r
M
a
r
i
o
O
d
y
s
s
e
y
S
c
a
v
e
n
g
e
r
H
u
n
t
General Info:
[*]
No sign-up required!
You will automatically be added to the player list by participating.
[*]Below is a list of objectives, with clues ranging from words, phrases, riddles, references, puns, whichever. Your job for each objective is to provide a picture from the world of
Super Mario Odyssey
that you believe fits the clue. The correct answer is usually a combination of several elements, like a specific location, a pose or action, a particular enemy or npc, or a costume.
[*]
Objectives that require the inclusion of a specific costume will be marked with an asterisk symbol (*)
[*]While we have a definite answer for every objective in mind, it is possible you might find an answer that fits the clues provided in a different way. Such answers may also receive points depending on how well they fit, so don't be afraid to get creative!
[*]To complete the full scavenger hunt you will require to have access to all Kingdoms. However, we will not bar you from participating if you don't meet these requirements. Feel free to answer as many objectives as you can.
Rules:
This game will be divided into two phases, each spanning 10 days.
- Phase One -
August 10th - 19th
-
- Phase Two -
August 21st - 30th
-
At the beginning of phase 1, a list of objectives will be released that each require a certain picture to be taken, as well as a clue for each of them. The objectives are divided by Kingdom and each have a label associated with them (like "Cascade A", "Sand D", "Lost F", etc).
Please use this numbering system when submitting your guesses
.
Once you have taken your pictures, please privately send them to us. We ask you to use the
forum's PM system
to do this, though the content of said message is up to you. You may post your pictures as links into the message directly, or link to a google document or imgur gallery, or whatever else you find convenient. Please
don't put your pictures into IMG tags
though, as that will flood our inboxes with pictures.
Once phase 2 arrives, an additional clue will be released for each objective. These are hints that further specify the pictures you need to take. If you have not submitted a correct guess in phase 1, you will get a new chance here by putting the clues from phase 1 and phase 2 together and figure out the picture that is needed. If you already guessed correctly in phase 1, you will be informed of that at this time.
At the end of phase 2, we evaluate all guesses and tally your points. Points are awarded based on the number of correct guesses, during which phase a guess was submitted, and various other factors (see "Tokens" for more info). Points will be used to determine a ranking, and
tokens will be paid out according to that ranking
.
Please note that you can only send
one picture per objective
during each phase. The first picture you send counts. If you feel that you've made a mistake, you get
one do-over
per objective (spanning both phases of the game, so if you use your do-over in phase 1, you can't use it again in phase 2). If you use the do-over, we will ignore the first picture you sent and you can send a different one. Note that if your erased picture was the correct answer, you will NOT get partial points for it.
Please send your guesses to
Anton
,
Edo
, and
2257
.
*
All images must be your own!
If we find out that you are using someone else's images, some of your guesses may be voided, or, depending on the scale of this infraction, you may be disqualified outright.
Tokens:
Players compete for points, which at the end of the game will be used to construct a leaderboard. Tokens will be paid out according to your rank on said leaderboard, NOT your number of points. You will receive the same amount of tokens, whether you reach first place with a margin of 3000 or a margin of 3. This also means leaking your correct guesses to others will potentially hurt your rank and put you at a disadvantage.
Point system (per objective):

Phase 1:
Correct guess:
Partially correct guess:
First correct guess:

Phase 2:
Correct guess:
Partially correct guess:

End:
Exclusivity bonus:
Didn't use do-over:


200 points
150 points
50 points


100 points
75 points


100 / # of correct answers
10 points
For the first correct guess bonus, we will update the list below to keep a live reflection of whether a clue has already been guessed.
The more people who play, the bigger the pot will be, and the more tokens you could possibly earn!
How to get your images off your Switch:
*Publish to Facebook
-As long as you can make them private, then just provide us with the direct image URLs, or transfer them from Facebook to Imgur
*Publish to Twitter
-As long as you can make them private, then just provide us with the direct image URLs, or transfer them from Facebook to Imgur
*microSD
-Using this, you will need to then upload the images to an image sharing service, such as Imgur, to then provide us with links to see them
*Phone or Camera
-Similar to the microSD method, but is handy if you don't have a microSD slot, SD card slot, or microSD to SD adapter. Just take as best of a photo of your Switch screen as you can and then transfer your images to your PC via a USB cable, microSD, SD, or upload directly to an image sharing service like Imgur if you're using a smartphone
For more detailed information, here's a good article that explains more!
Example:
The list of objectives might look something like this:
Sand Kingdom

Sand A - (Clue 1: "Siesta")
Sand B - (Clue 1: "Hit-and-Run")
Sand C (...)
Your answer might then be this:
Sand Kingdom

Sand A: https://i.imgur.com/wi5hdsn.jpg
Sand B: https://i.imgur.com/0SeEd9h.jpg
Sand C (...)
Do note that the Kingdom name and objective identifier are both included!
If there are absolutely any questions, comments, needs for explanation, compliments, credit card info, anything, please feel free to ask us here in this thread, or PM us if it must be private!