listen
Poll Committee
Former 'Shroom Staff
Come one, come all, down to Inkopolis! Us squids have a special event planned just for you....
​
It's an extra-special event only hosted every few years, and this time, we'll be using

Moray

Towers

as our venue!
​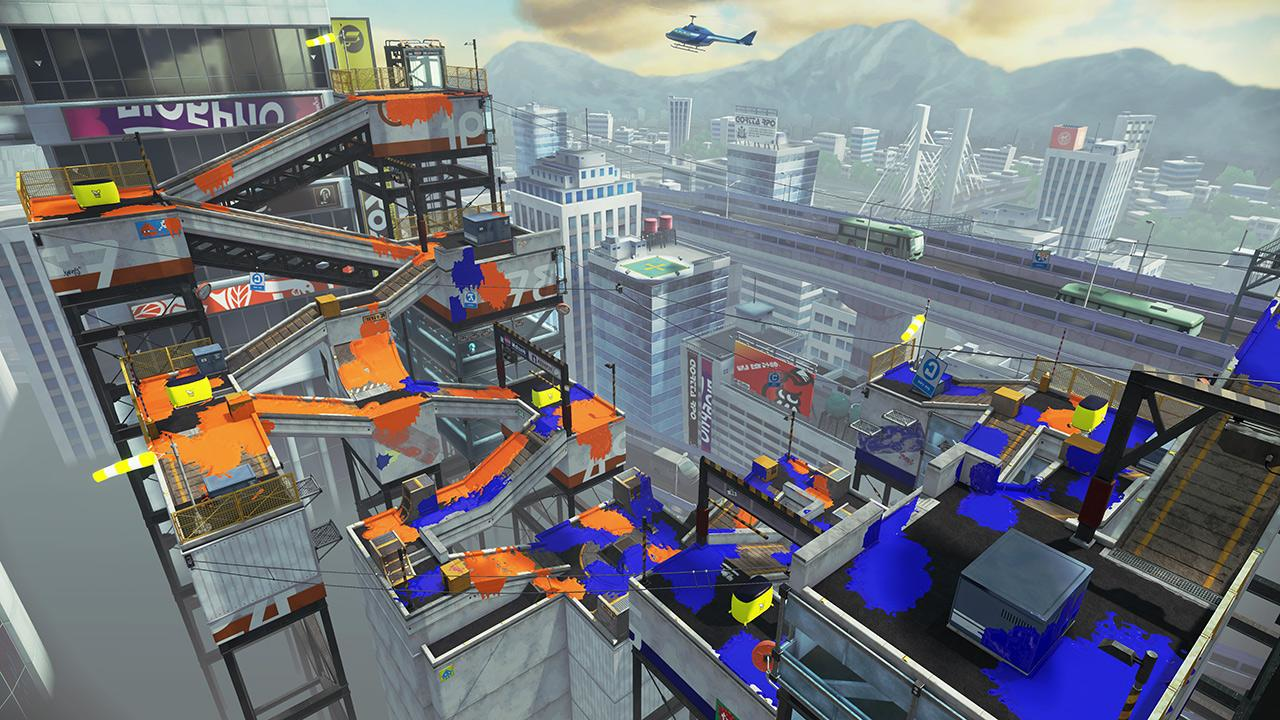 GBA:
Uhh, LB...
LB:
Sup?
*whispering and muttering*
LB:
Sigh...
Ok, fine, not the Splatting Game...​
Something something Ghost Killing Game yadda yadda Haunted Towers whatever​
Overview
Idk some old ladies lived here now they died and you guys are too but you can be not dead if you win so just start killing each other or whatever I dont care I want to go back to Inkopolis

I mean uh

Ahem.

So, yeah. Haunted Towers. The former owners were some total plant fanatics, thus there's plants and trees everywhere here! This is a rainforest-like environment, thus that means it rains all the time here! It gets thundery a lot as we--





....like that.
Ow. *cough*
Anyway, these towers are a beautiful sight to behold in the forest! The giant tree in the center is actually part of the structure, too; in fact, that's where your bedrooms will be! We're also a green, eco-friendly, environmentally-conscious, hypoallergenic, gluten-free, free-range energy user, running fully on hydroelectric pow-
Oh.
Well, not tonight, I guess.
As you all know, you are competing for a spot amongst the living in Treacherous Mansion. Only one victor may emerge from all of you in this game. May the odds be ever i- wait wrong series
Anyway, whoever wins the Haunted Towers Ghost Killing Game will be resurrected and allowed to play in the final Treacherous Mansion Killing Game, while those who die are banished back to the ghostly realm. Good luck!
Polterpups
You're not alone in the towers, however!

These adorable little ghost dogs have made the towers their home, and you'll see them running from room to room during your night activities. There's three total, and you are very much welcome to pet them! They're known to be mischievous little things, though, so take good care of your valuables if you don't want these pups stealing them and running off! Maybe some sort of special treat can be used to train them...

One word of warning, however. If you harm a Polterpup in any way, you will be banished to the deepest layer of Hell like the soulless, cruel demon you are. Think of it as a universal Forbidden Action. Don't get too aggressive with them!
Player List
I. Yoshiwaker
II. Hooded Pitohui
III. Smg2daisy
IV. Ninelevendo
V. rollerC
VI. Alex95
VII. Chibiki Daisy
VIII. The Pyro Guy
IX. Mariofan169
X. fantanoice
XI. Meta Knight
XII. MsRetroGeek
Map
Key:
Red stairs
go up
Blue stairs
go down
Circles
are elevators
​
Room List
Rooms marked with a
★
are outdoors.
1F
★

Courtyard: A quaaint outdoor entrance to the towers. This courtyard is the home of some large flowers. There's a couple of scattered buckets around, which can be filled with water from a broken pipe here. A pinwheel gate sits on the north end, allowing (or denying!) access to the Hollow Tree.
Hollow Tree (1F): This part of the tree has some alcoves, a pool of water in the middle, and the entrance to the Tree Root, along with stairs to the upper parts of the Hollow Tree. There's quite a lot of flammable spider webs here, along with some conveniently-placed torches. The alcoves don't have much in them, but can serve as handy hiding spots.
Tree Root: Not much in here, but it's quite damp and mossy. Several mushrooms, perhaps poisonous, grow in here. An entrance to the Old Graveyard is present at the end of the room.

★

Old Graveyard: A small graveyard for the departed. Tombstones and coffins everywhere, as you would expect, along with a large crow statue. Some trees and flowers are here as well, along with some topiaries shaped like... Bowser. Nice touch! Torches light up the area. The Crypt is located in the back, and a doghouse sits in the corner.
Crypt: A small storage room. Lots of empty coffins laying around, with a dim torch for light. An empty painting sits in the center of the room, its canvas waiting to be explored.
Tower Lobby (1F): Serves as a passageway between multiple rooms. A drain is found on the floor. A small maintenance room can be found underneath the stairs, holding some gardening supplies, and through here, access to the West Garden is available.
Greenhouse: Home to A Lot of plants. Fruit plants. Colorful plants. Spiky plants. Deadly poisonous plants. Even a giant Venus flytrap! In fact, giant enough to eat you if you aren't careful. There's gotta be a way to sedate it somehow...

★

West Garden: Not much here, aside from a few potted plants and hedges. A unique plant with a spiky, poisonous fruit grows in the center of the garden, and quickly regenerates its fruit. It's deadly enough to kill even the most intimidating of monsters! Something tells me handling it bare-handed isn't a good idea, however...
Hydro Generator: The main power source of the towers. Haunted Towers prides itself on environmentally-friendly energy, and runs fully on hydroelectric power. Lots of water here, as one would expect, including drains, pipes, and water wheels, coming from the Water Supply on 4F. A couple of tall, exotic plants flourish in this moist environment.
East Hall: A small hallway connecting the rooms of the east tower. Not much here, other than an empty painting and a drawer full of art supplies.
Tool Shed: A huge tool shed, necessary for maintaining the countless number of plants in Haunted Towers. All sorts of gardening tools, fertilizers, and supplies may be found in the cabinets and drawers in here. An ornate fountain, which doubles as a not-so-secret entrance to the Toolshed Stairs, sits in the corner.

★

Garden: A once-beautiful garden left ravaged by neglect. There's still hedges and plants here; the fruits of these plants are known to be a local delicacy! Also present here is a small pond, a large Bowser topiary, and a working lawn mower.
Toolshed Stairs (1F): A stairway. That's, uh, basically all this is. It goes all the way up to 4F.
Gardener's Dwelling: A nice, if messy, bedroom. Inside is a bed, a stove, a sink, some cabinets and drawers (filled with various papers and writing instruments), and a table set. The ceiling fan makes for an excellent place to hang peo- I mean, things, from. The room is dimly lit by candlelight. Something tells me there's something hiding in plain sight here, though...
2F
★

Skybridge: A bridge connecting the second floor of the east and west towers. It overlooks the Hollow Tree, giving it a nice view. Be careful using it, though, as a pack of crows have nested here; they're quite territorial and will peck at anyone who lingers here for too long!
Hollow Tree (2F): Contains every bedroom from I to XII, arranged in a familiar number sequence around the center of the Hollow Tree. There's an overlook to the 1F Hollow Tree here. Otherwise, not much present besides stairs.
Tower Lobby (2F): Not much here on the upper part of the lobby, other than stairs back down to 1F and an entrance to the Plant Nursery.
Plant Nursery: An extension of the Greenhouse below, essentially; more plants than you can imagine live here. Some are extraordinarily pretty, while others are deadly poisonous. A beanstalk has grown in the center of the room, destroying the ceiling above and acting like a stairway to the Rumpus Room.
Laboratories (2F): A large, abandoned reasearch laboratory. Some huge broken test tubes remain here, and research papers are scattered all over the floor. Lots of smaller test tubes, along with other basic chemistry equipment and some mysterious chemicals, line a desk inside the room. A door to the Botany Lab is present. A lift, leading to the top floor of the Laboratories, is in the back.
Botany Lab: An extension of the laboratories. Lots of strange, genetically modified plants are here, locked inside of test tubes. The Toolshed Stairs can be accessed through a door here. Another giant Venus flytrap sits in the center of the room; I wouldn't mess with it!
Toolshed Stairs (2F): More stairs. Wow.
3F
Hollow Tree (3F): Not much beyond some stairs. Very wooden aesthetics though.
Rumpus Room: A bedroom, presumably belonging to a young child. A large dollhouse replica of Haunted Towers sits here, along with a life-size doll. Many smaller dolls, along with jack-in-the-boxes, teddy bears, and a child-sized dresser and bed, line the pink walls. The dresser contains lots of make-up and fashion accessories. A beanstalk has grown through the floor, destroying part of it and acting as a stairway down to the Plant Nursery. I swear, the big doll is watching me...
Kitchen: This room is connected to the Rumpus Room. A stove, oven, microwave, and dishwasher are all here, along with a family-sized table set, plates and silverware, and a refrigerator/freezer stocked with food. The pantry and cabinets have some perishables.
Family Room: This room is between the Solarium and the Kitchen. In here are some couches and armchairs, a fireplace, and an official Amazon Echo named Alexa. Portaits of three beautiful women line the walls. This makes for a nice, cozy spot to relax in.
Solarium (3F): Another stairway, leading up to 4F. The walls are made of glass, and some exotic plants grow here on shelves. Some chairs are on the lower part of the stairway.
Laboratories (3F): Not much up on the upper floor of the Laboratories, other than some rafters and spiky vines. There's a door to the Seedling Laboratory available, though.
Seedling Laboratory: An extension of the Botany Lab below. Genetically-modified saplings and seedlings grow in pots here; just some fertilizer on them should do the trick. There's also a seed cannon here, but it can be taken out of the room and can shoot out other small objects!
Toolshed Stairs (3F): H
4F
Crow's Nest: A rickety bridge connecting the east and west towers, along with the top of the Hollow Tree. It is protected from the elements by the canopy of the Hollow Tree. Some crows are perched on the fencing, but are passive.
Hollow Tree (4F): The top room of the Hollow Tree. Up here is a door leading to the Eerie Staircase.
Eerie Staircase (4F): A loooong staircase. Pitfalls and other traps are hidden amongst the stairs. You're going to need quite a bit of Stamina, or lots of energy in you, if you want to make it to the top!
West Hall: A small hallway connecting the western rooms of the tower. It's a duplicate of the East Hall on 1F, but the drawer is full of first-aid supplies instead.
West Bathroom: A bathroom containing multiple sinks, toilets, and a shower. Oddly, a pool chair is found here; what happens if you lie in it...?
West Bedroom: A guest room containing three beds. The beds aren't normal beds, however; they're extremely light despite being able to support a lot of weight, and can be moved (and even thrown) around with ease! Also in here is a drawer filled with medicines and antidotes, and a very expensive-looking vase.
Solarium (4F): The top floor of the Solarium doesn't have much other than stairs and a door to the West Bedroom. The walls are still made of glass, however.
Conservatory (4F): The centerpiece of the Conservatory is a massive pipe organ. Any tunes played on it can be heard throughout the entire east tower! Also present here are some pianos, trumpets, and violins, along with scattered music sheets, but a stark lack of kazoos or anything remotely related to them. Behind the organ is a lift to the top of the Conservatory, and a door to the Lounge is in the center of the room.
Lounge: Renovated entirely just for the Killing Game! Formerly in advanced disrepair, the new Lounge features some comfy armchairs and sofas, a 52" flat-screen TV, every Nintendo console and handheld, and a wide selection of games, movies, and books! There's even a mini-fridge stocked with sodas and snacks, and a fully-loaded cotton candy machine. The hottest entertainment spot in the mansion!
Water Supply: Supplies water to the Hydro Generator on 1F. The water is run through a large, very complex machine. A toolbox containing wires and electrical equipment is found here.
Toolshed Stairs (4F): H
5F
Eerie Staircase (5F): The top of the loooong staircase. At the end is a mysterious door...
Rooftop Pool: A large pool with a diving board, along with a hot tub. Pool noodles, a floatie, and beach balls are present here, and the ground is covered in sand. Some jugs of chlorine disinfectant are stored in the back.
Conservatory (5F): Up here are some older, dusty instruments, along with a phonograph. A door to the Balcony is present.

★

Balcony: Not much of... anything here. However, this gives an excellent view of the west tower and its perimeter rooms, and the Courtyard below. An unusually shiny vase is up here. Maybe you can drop things down from here...
???: ???
Now that that's out of the way...
let's get started!
It is now

Night 1!

You have

48 hours

to get accustomed to the mansion and to submit night actions. There's a

thunderstorm

going on right now, though, which means... BLACKOUT! This also means all electric elevators are currently disabled.



Yoshiwaker

and

Hooded Pitohui

are immortal for this night, so don't bother trying to kill them!

Good luck with your night actions!
​