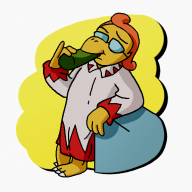 kero?
Chat Administrator
Core 'Shroom Staff
Awards Committee
Prize order + token list
Item Limits:
-You are allowed to pick 1 big prize and 1 small prize, or 0 big prizes and up to 2 small prizes, with small prizes being TF2 items, low-cost dlc, emoticons, and trading card sets, and big prizes being everything else (digital games, shop points, OW boxes). Exceptions may be granted in specific circumstances. Edit: There are currently no small prizes so the process is simply 1 prize selection per turn!
-Buying two of the same item is not allowed.
Your Steam storage contacts are
The Mushroom Vault
, a shared account used by awards staff to distribute prizes, and
PsychoKamek
. Otherwise, all other prizes/codes are stored by Anton or by the donor.
Everyone will have 24 12 hours after the last person has selected their prize(s) to choose their own until they are skipped. After everyone takes their turn once, the list will start again from the beginning until all prizes or tokens are exhausted, or everyone is done.
*While we may contact people individually, we are not responsible for doing so. If you miss your turn and are skipped, you must wait until the next cycle.
*Obvious inactive people will either be skipped entirely or given less time; this will be taken as it goes. This is so it doesn't take 6 years to get through the list.
**If you've been assumed inactive and skipped, but show up at some point, we may decide to let you go next.
*People are not allowed to officially reserve prizes for themselves, but some may allow it as a courtesy. No one is bound to this.
**If you know you're going to be away/inactive during the time you would be selecting a prize, you can provide a few options for us to select on your behalf and we'll do our best to accommodate.
*If you know your turn is next, but Anton or Turb haven't announced who's next yet (by factor of them not being online at the moment, etc.), feel free to post your selection and continue onward with the list for when we can get back to address them.
*It's possible during the course of distribution that some prizes may become unavailable, or more prizes will be added. We will do our best to make these changes as fair as possible.
List of Prizes:
Steam Games
| | | |
| --- | --- | --- |
| Prize | Cost (In Tokens) | Stored By |
| Cthulhu Saves the World + Breath of Death VII x3 of 3 | 5 | The Mushroom Vault |
| DLC Quest | 5 | The Mushroom Vault |
| Dark Scavenger | 10 | Anton |
| Deep Dungeons of Doom | 10 | Anton |
| Potatoman Seeks the Troof | 10 | Anton |
| Super Hexagon x2 of 2 | 10 | The Mushroom Vault, Anton |
| Back to Bed | 15 | Anton |
| Beat Hazard Ultra (DLC) | 15 | Anton |
| Oozi: Earth Adventure | 15 | Anton |
| VVVVVV | 20 | Anton |
| BEEP x4 of 4 | 20 | The Mushroom Vault |
| Girls Like Robots | 20 | Anton |
| Gunmetal Arcadia Zero | 20 | Anton |
| Serious Sam: Double D | 20 | The Mushroom Vault |
| Serious Sam: The Random Encounter | 20 | The Mushroom Vault |
| Yosumin! | 20 | Anton |
| BIT.TRIP RUNNER | 25 | PsychoKamek |
| Ellipsis | 25 | Anton |
| Hero Siege x1 of 3 | 25 | Psychokamek |
| Human Resource Machine | 25 | Anton |
| Mini Metro | 25 | Anton |
| Mushroom 11 x2 of 2 | 25 | PsychoKamek, Anton |
| Poker Night at the Inventory x2 of 2 | 25 | Anton |
| Poker Night 2 | 25 | Anton |
| Puzzle Agent | 25 | Anton |
| Towerfall Ascension | 25 | PsychoKamek |
| Tropico 5 - Espionage (DLC) | 25 | Anton |
| Tropico 5 - Waterborne (DLC) | 25 | Anton |
| World of Goo | 25 | Anton |
| Gyromancer | 30 | Anton |
| Ratz Instagib | 30 | The Mushroom Vault |
| SteamWorld Dig | 30 | Anton |
| Syder Arcade | 30 | Anton |
| The Walking Dead: 400 Days x2 of 2 | 30 | Anton |
| Waking Mars | 30 | Anton |
| Battlerite Lite x2 of 2 | 35 | tfp |
| BiT Evolution | 35 | Anton |
| Bone - Episode 1 & Episode 2 | 35 | Anton |
| Botanicula | 35 | Anton |
| Shu | 35 | Anton |
| Dino D-Day x4 of 4 | 40 | The Mushroom Vault |
| Dustforce DX (+ Soundtrack) | 40 | The Mushroom Vault |
| Gunpoint x2 of 3 | 40 | The Mushroom Vault, Anton |
| JumpJet Rex | 40 | Anton |
| Magicite x3 of 3 | 40 | Psychokamek |
| Nuclear Throne | 40 | Anton |
| Platformines | 40 | The Mushroom Vault |
| Polarity x2 of 2 | 40 | The Mushroom Vault |
| Psychonauts | 40 | Anton |
| Puzzle Agent 2 x2 of 2 | 40 | Anton |
| Super Galaxy Squadron EX Turbo | 40 | Anton |
| Day of the Tentacle | 45 | Anton |
| NightSky | 45 | The Mushroom Vault |
| System Shock Enhanced Edition | 45 | Anton |
| System Shock 2 | 45 | Psychokamek |
| Team Indie | 45 | Anton |
| The Swapper | 45 | Anton |
| Anomaly 2 | 50 | Anton |
| Colin McRae DiRT 2 | 50 | The Mushroom Vault |
| Magicka 2 | 50 | Anton |
| Retro Game Crunch | 50 | Anton |
| Super Meat Boy | 50 | Anton |
| Tower of Guns | 50 | Anton |
| Hot Tin Roof: The Cat That Wore A Fedora | 50 | Anton |
| Medieval II: Total War | 60 | The Mushroom Vault |
| Lara Croft & the Temple of Osiris | 60 | Anton |
| No Time to Explain Remastered | 60 | Anton |
| Song of the Deep | 60 | Anton |
| Starbound | 60 | Meta Knight |
| BIT.TRIP Presents... Runner2: Future Legend of Rhythm Alien | 65 | Anton |
| Strider | 70 | Anton |
| Batman: Arkham Origins | 75 | Anton |
| Batman: Arkham Origins Blackgate - Deluxe Edition | 75 | Anton |
| 7 Grand Steps: What Ancients Begat | 75 | Anton |
| Chroma Squad | 75 | Anton |
| Guacamelee! Gold Edition | 75 | Anton |
| Hand of Fate | 75 | Anton |
| Invisible, Inc. | 75 | Anton |
| Kholat | 75 | Anton |
| Tango Fiesta | 75 | Anton |
| The Walking Dead: Michonne - A Telltale Miniseries | 75 | Anton |
| The Weaponographist | 75 | Anton |
| Torchlight II x1 of 2 | 75 | Anton |
| Hector: Badge of Carnage | 75 | Anton |
| Jurassic Park: The Game x2 of 2 | 80 | Anton |
| Tomb Raider I, Tomb Raider II, and Tomb Raider III | 75 | Anton |
| Tomb Raider: Legend, Tomb Raider: Anniversary, and Tomb Raider: Underworld | 80 | Anton |
| Sam & Max: Devil's Playhouse x2 of 2 | 90 | Anton |
| Sam & Max: Season One | 90 | Anton |
| Sam & Max: Season Two | 90 | Anton |
| The Escapists 2 | 90 | Anton |
| Tropico 5 | 90 | Anton |
| 2064: Read Only Memories | 100 | Anton |
| Back to the Future: The Game | 100 | Anton |
| Final Fantasy XIV: A Realm Reborn | 100 | Anton |
| Guacamelee! Complete | 100 | Anton |
| Mad Max | 100 | Meta Knight |
| The Last Remnant | 100 | Anton |
| The Ship - 2-Pack | 100 | The Mushroom Vault |
| Chivalry: Medieval Warfare | 110 | Psychokamek |
| Dead Space 2 | 110 | Psychokamek |
| Amanita Collection (Includes 4 items: Machinarium, Machinarium Soundtrack + Art Book, Samorost 2, Botanicula) | 120 | The Mushroom Vault |
| RAGE + The Scorchers DLC | 120 | The Mushroom Vault |
| Tales from the Borderlands x2 of 2 | 120 | Anton |
| The Walking Dead: Season 1 | 120 | Anton |
| The Walking Dead: Season 2 x3 of 3 | 120 | Anton |
| The Wolf Among Us x1 of 2 | 120 | Anton |
| Murdered: Soul Suspect | 120 | Anton |
| Tomb Raider GOTY Edition | 120 | Anton |
| Deus Ex Collection | 130 | PsychoKamek |
| Game of Thrones - A Telltale Games Series | 140 | Anton |
| Spec Ops: The Line | 140 | The Mushroom Vault |
| Conan Exiles | 180 | Anton |
| BIT.TRIP Collection | 220 | PsychoKamek |
| BioShock: The Collection | 240 | Meta Knight |
Separate table because these are massive lol