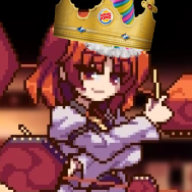 You got more than you bargained for!
Forum Moderator
Chat Operator
Core 'Shroom Staff
Awards Committee
Poll Committee
Come one, come all! Welcome to the Old Clockworks! Once a massive complex of industry, it was slowly converted into a proper living space... after which the company went out of business and the place fell into disrepair.
So, we did what anyone does with such mansions:
We locked 15 people in it and told you to kill each other!
Remember to follow the rules of the Killing Game as you play it.
Additionally,
most discussion
should take place on the official discord - it's got space for everything. A general discussion room, rooms for each mansion... trust me, it's worth it!
Player List - Old Clockworks
(The letter corresponds to your bedroom)
A: Shoey Turboo
B: Chibiki Daisy
- Executed, Day 2
C: Fun With Despair
- Executed, Day 3
D: Nabber
E: Yoshiwaker
- Deceased, Night 1
F: Dupe Face
G: Luigi64DD
H: Fantanoice
- Deceased, Night 3
I: rollerC
- Deceased, Night 2
J: Epic Nitwit
K: Shygul
- Executed, Day 3
L: Yoshi876 YoshiFlutterJump
M: Vruet
N: Roserade
- Executed, Day 1
O: Mariofan
- Deceased, Night 3
And of course, what's a killing game without knowing where to kill and how? Have a map! (Rooms marked with an asterisk in the list are outdoor rooms. This may be relevant to some of you!)
West Temporal Hallway (2F)
- Contains a lot of doors to various rooms in the west wing of the Old Clockworks, and stairs to 1F.
Workshop
- Contains various items used for the forging of gears and clockwork, such as hammers, tongs, and pliers, among others.
Kiln Room
- A room with a large firing kiln. It's not big enough to fit a person inside, but you might be able to use it for other things...
Office
- Used for drafting up blueprints. Now it's full of papers and a desk.
Clockmaker's Chambers
- Where the owner of this mansion once lived. it's got a large bed, some dressers, and some broken clocks.
Bath Room (West)
- The Clockmaker's own bathroom, which can only be accessed from the hallway for some reason. Has a non functional bathtub, and the mirror cabinet is filled with moisturisers and hand creams needed to fight the blistering conditions of clock-making.
*Balcony
- An ornate balcony that overlooks the beautiful reservoir below. Connects both Temporal Hallways.
Container Yard
- Several large crates are located here. Who knows what they're full of? There's also some of those handcarts for moving them around.
Clock Tower (2F)
- A multilevel tower, located right at the front of the Old Clockworks. A massive clock on its front continues to tell the time even years after the mansion was shut down, and is the only fully functional clock in the whole clockworks. The pendulum swings behind a large iron gate on 1F, but here, it's only surrounded by a waist high fence. You can see into the 1F Clock Tower if you look down from here.
East Temporal Hallway (2F)
- Like it's western counterpart, this hallway contains lots of doors and a set of stairs to 1F.
Bath Room (East)
- Contains a fully functioning bath and toilet, and a good supply of fancy soaps. There's a CD player here, likely to listen to relaxing music while in the tub.
Dusty Library
- A library filled to the brim with knowledge on clockmaking, architecture, dry climates, time, and history, among other topics related to the Clockworks. Some of the books are covered in sand and dust, giving this library its name.
Armory
- Whoever once owned this mansion had a passion for armor and weapons. Stuffed a bunch in there.
Cargo Hall
- A remarkable lack of cargo is here, as it gets its name from transporting cargo. There's some automated pulleys and conveyors, but the room is currently covered in sand.
Service Elevator
- A formidable room with a moving platform encased by a steel safety barrier. The large platform is about 5m in length and width, and can ascend and descend throughout all three floors of the clockworks. The landing platform here connects to the Cargo Hall and Dusty Library.
West Temporal Hallway
- One of the two ancient pillars upon which the Clockworks was built around, this time connecting the rooms of the western part of 1F. Has stairs to both 2F and B1F.
Roundhouse
- A big room with a minecart, and some minecart tracks. It looks like it used to have a path that went underground, but it has since collapsed completely.
Kitchen
- A fully fitted kitchen, with a limitless supply of food, kitchen utensils, bread, workable fridges and sinks.
Freezer
- A walk-in freezer maintained at ridiculously low temperatures despite the arid climate of the Clockworks. Contains a variety of frozen meats, and has a cast iron door that seals shut from the outside.
Warehouse
- Has a neverending supply of ribbon and thread in coils, as well as some raw metal.
Passageway
- A small hallway that contains stairs to B1F.
*Reservoir
- A lovely looking pool of water, almost like an oasis. Is overlooked by the Balcony on 2F.
East Temporal Hallway
- The other pillar that serves a multilevel function for the Clockworks. Connects a variety of rooms on the eastern side of 1F.
Art Room
- Full of art supplies and other paints and varnishes needed for decorating clocks and pottery.
Old Laboratory
- A once-used laboratory that's fallen into disrepair, with some of the scientific apparati still inside.
Gear Chamber
- A room with gears of all sizes turning in the walls and under the floors. Unlike the Clockworks, these are largely for decoration, and easily removed.
Break Room
- A room for people to kick back and relax. Contains places to sit, a coffee machine, and a large TV.
Clock Tower (1F)
- Contains the pendulum for the Clock Tower behind an iron gate that extends all the way up to the ceiling. You can see through to the 2F Clock tower in here.
*Clockworks Court
- The "front lawn" of the mansion, a huge, sandy expanse bordered by an impenetrable fence. Clockwork pieces are scattered across it. It's the only area you can watch the Clock Tower from the outside.
Service Elevator
- See 2F. This floor only has one exit to the Gear Chamber.

West Temporal Hallway (B1F)
- The west side of the Clockworks has almost caved in completely, with shattered tiles and piles of boulders littering the whole of this hallway. It serves as a connection to the other rooms almost uselessly, except for that ominous room at the end...
Collapsed Mineshaft
- This appears to have once been the entrance to a mineshaft, which has caved in entirely. The floor is covered in sand, and an E-Gate stands under the wooden frame right at the old entrance.
Clockworks
- A room full of ticking, active gears and machinery connected to the Clock Tower. The gears here keep the clock ticking away... but maybe they do more than that?
Storm Cellar
- A bunker in case of severe storms, it's watertight and contains lots of canned food and a few beds.
Sandy Passageway
- The B1F version of the room above, however, this area is flooded with coarse and rough sand that got everywhere.
Quarry Pit
- Once the site of some digging, now it's simply a huge pit surrounded by a fence (the pit does not block crossing the room). Mining tools are spread throughout.
????
- ????
East Temporal Hallway (B1F)
- This side of the Clockworks is luckily still completely intact. It connects to the central rooms of B1F, as well as Storage and the Maintenance Hub.
Storage
- Contains various items of all shapes and sizes, tossed into the room when they weren't needed.
Maintenance Hub
- Contains a handcart and various supplies for maintenance - metal polish, janitorial supplies, etc.
Elevator Controls
- Contains all of the mechanisms to the Service Elevator, in plain sight, aside from the cardboard "Please Do Not Touch" sign covering the mechanisms.
Service Elevator
- See 2F. This floor connects to the Sitting Room.
Sitting Room
- A room for sitting while waiting for the service elevator. Contains a nice vase filled with freshly cut flowers.
And of course, I've provided you method and opportunity, now we just need a motive! Your kill incentive for night 1 is...
If nobody attempts a murder tonight, every player in the Old Clockworks will be executed!
...Nah, that's old hat. Who wants to rehash the past?
Your REAL motive is:
The first killer in each game will receive a special bonus after the trial concludes. No matter the outcome of the trial, it will benefit them in life and in death, but obviously, the reward will be greater if they get away with the first murder of the game!
Now get out there and start shanking each other!
Night 1 ends 3 PM Eastern time, July 18th!
This is a special 48 hour phase to let you get used to the map and planning around it; future nights will only be 24 hours.