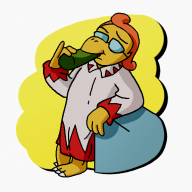 kero?
Chat Administrator
Core 'Shroom Staff
Awards Committee
"Making good wine is a skill; making fine wine is an art."
-Robert Mondavi
Results!
Info:
*One (1) entry per individual.
*Winners will be selected with a public vote using Polldaddy polls linked both here and in The 'Shroom
*The topic is very general; Mario- and community-themed works
*All kinds of art will be accepted (Drawings both computer and traditional, short comics, gifs, photos, short videos, songs, anything that's art)
*Tokens will be awards for 1st, 2nd, and 3rd place in each skill category, as well as for general participation.
Submissions:
Please send all submissions to me starting June 1st - July 14th, whether it's my inbox here, or query on chat, so long as it's private. If you are signed up, the deadline can be extended up until July 20th for you as I'd already know to be expecting it.
Voting will take place July 21st - August 11th, and polls will be located both within this thread and in a special 'Shroom section in July's issue.
Please don't post entries within this thread!!
Sign-ups:
Sign-ups aren't necessary but they really help see how many people there will be and create a balanced contest. There will be 3 skill tiers with separate votes (beginner, amateur, and experienced) so if you sign up please select which one you feel you fit into. If one tier ends up barren while another is overpopulated I may use Director's discretion and move people around, but I will certainly try to avoid this as much as possible. Also, people who do not provide a tier to be placed into will automatically go into amateur until otherwise proven or stated, and people are also free to change their position.
If there are any questions, comments, concerns, please post them in this thread. If you think there's a better way to run this contest than how I did it last year, please tell me!
Check out last year's contest and results!