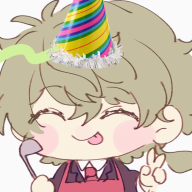 Shine Sprite
Wiki Administrator
Chat Administrator
Core 'Shroom Staff
Awards Committee
Discuss general things here

This OP will be updated periodically, with other updates in new posts.
Awards Ceremony
Friday, August 17th, 2018
Chat Party: / 2:00PM EDT (times as listed by [​time] and EDT)
#mwikiawards @ irc.darkmyst.org
To access it, just join the server 'irc.darkmyst.org' in any irc client and join #mwikiawards. You can also join it by using the wiki's
WebChat applet
and typing "/join #mwikiawards" after you get in, or just simply click
this direct mibbit link
!
Chat Party logs: .log / pastebin
Community Awards XI
/ 3:00PM EDT -
Community Awards XI Opening Script - Meta Knight
/ 3:05PM EDT -
C1 - Favorite 'Shroom Directing Staff - Hooded Pitohui & Raregold
/ 3:10PM EDT -
C10 - Favorite New 'Shroom Writer - Roserade
/ 3:15PM EDT -
C13 - Favorite 'Shroom Special Section - Hooded Pitohui
/ 3:20PM EDT -
C12 - Favorite Written 'Shroom Section of the Past Year - Meta Knight
/ 3:25PM EDT -
C8 - Favorite Retired 'Shroom Writer - Gabumon
/ 3:30PM EDT -
C11 - Best 'Shroom Section Design - The Pyro Guy
/ 3:35PM EDT -
C3 - Favorite Artist - Toadbert101 & Super-Yoshi
/ 3:40PM EDT -
C9 - Favorite Veteran Writer - MsRetroGeek
/ 3:45PM EDT -
C6 - Favorite 'Shroom Team - The Pyro Guy
/ 3:50PM EDT -
C4 - Favorite 2017 Awards Presentation - Lakituthequick
/ 3:55PM EDT -
C7 - Favorite 'Shroom Core Staff - MsRetroGeek
/ 4:00PM EDT -
C5 - Wiki Contributor Award 2018 - Alex95
/ 4:05PM EDT -
C2 - Best 'Shroom Section Artwork - Gabumon
/ 4:10PM EDT -
C14 - 'Shroom Person of the Year 2017-2018 - MsRetroGeek
/ 4:15PM EDT -
C15 - Outstanding Community Achievement Award - The Pyro Guy
/ 4:20PM EDT -
Community Awards XI Closing Script - Meta Knight
Fail Awards X
/ 4:35PM EDT -
Fail Awards X Opening Script - Turboo
/ 4:40PM EDT -
F1 - Worst Character - Gabumon
/ 4:45PM EDT -
F8 - Worst Mario Kart Course - Chibiki Daisy
/ 4:50PM EDT -
F11 - Biggest Missed Opportunity - Magikrazy
/ 4:55PM EDT -
F4 - Worst RPG Area - Turboo
/ 5:00PM EDT -
F2 - Worst 2D Level - NEXandGBX
/ 5:05PM EDT -
F14 - Worst Setting - GBAToad
/ 5:10PM EDT -
F13 - Worst Mario Party Minigame - Baby Luigi & LeftyGreenMario
/ 5:15PM EDT -
F6 - Worst Spin-off - Epic Nitwit
/ 5:20PM EDT -
F10 - Worst Game Mechanic - Roserade
/ 5:25PM EDT -
F3 - Worst 3D Level - The Pyro Guy
/ 5:30PM EDT -
F12 - Worst Game Objective - MrConcreteDonkey
/ 5:35PM EDT -
F5 - Worst Level - DragonFreak
/ 5:40PM EDT -
F9 - Worst Direction of Series - Yoshiwaker
/ 5:45PM EDT -
F7 - Worst Enemy - Uniju :D
/ 5:50PM EDT -
F15 - Most Disappointing Game - Snack
/ 5:55PM EDT -
Fail Awards X Closing Script - Turboo
Mario Awards XII
/ 6:10PM EDT -
Mario Awards XII Opening Script - Anton
/ 6:15PM EDT -
M1 - Best Sound Design - Meta Knight
/ 6:20PM EDT -
M3 - Favorite Mario Platformer - NEXandGBX
/ 6:25PM EDT -
M24 - Favorite Costume - Anton
/ 6:30PM EDT -
M12 - Favorite Supporting Character - Gabumon

/ 6:35PM EDT -
M2 - Favorite Mario Kart Game - BBQ Turtle
/ 6:40PM EDT -
M25 - Favorite 2D Mario Level - Meta Knight
/ 6:45PM EDT -
M13 - Favorite Level Theme - Meta Knight
/ 6:50PM EDT -
M15 - Hardest Boss - Turboo
/ 6:55PM EDT -
M21 - Favorite Puzzle Game - Chibiki Daisy
/ 7:00PM EDT -
M18 - Favorite Mario Party Game - Gabumon
/ 7:05PM EDT -
M8 - Favorite Art Style - Chibiki Daisy
/ 7:10PM EDT -
M20 - Favorite Sports Game - Meta Knight & MsRetroGeek
/ 7:15PM EDT -
M4 - Favorite Mario Kart Course - Yoshiwaker
/ 7:20PM EDT -
M6 - Favorite Wario Level - DragonFreak
/ 7:25PM EDT -
M29 - Favorite Classic Game (GCN/GBA and older) - DragonFreak
Intermission
/ 7:35PM EDT -
M5 - Favorite DK Level - Epic Nitwit
/ 7:40PM EDT -
M9 - Favorite Add-on Content - Gabumon
/ 7:45PM EDT -
M16 - Favorite Item - Chibiki Daisy
/ 7:50PM EDT -
M17 - Favorite Mario RPG - Fawfulthegreat64
/ 7:55PM EDT -
M19 - Favorite Actor - MrConcreteDonkey
/ 8:00PM EDT -
M27 - Favorite Boss Battle - GBAToad & Lord Bowser
/ 8:05PM EDT -
M22 - Favorite Battle Course - rollerC
/ 8:10PM EDT -
M7 - Favorite Yoshi Level - Snack
/ 8:15PM EDT -
M10 - Favorite Song - GBAToad
/ 8:20PM EDT -
M26 - Favorite 3D Mario Level - The Pyro Guy
/ 8:25PM EDT -
M23 - Favorite Capture - Hooded Pitohui
/ 8:30PM EDT -
M28 - Favorite Game Setting - Hooded Pitohui & ManKoops
/ 8:35PM EDT -
M14 - Favorite Species - Gamefreak75
/ 8:40PM EDT -
M11 - Favorite Major Character - Superchao
/ 8:45PM EDT -
M30 - Favorite Modern Game (Wii/DS and newer) - The Pyro Guy
/ 8:50PM EDT -
Mario Awards XII Closing Script - Anton
Ceremony
Friday, August 17th, 2018

Important Links:
Anniversary Wiki Page
Schedule
Historical Results (2007-2014)
Historical Results (2015-present)
2017 Complete Results
Full List 2017
Full List 2018 (In Progress)
Token Sheet 2018
2018 Complete Results