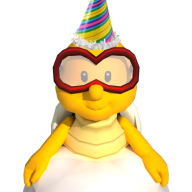 Celestial Guide
Core 'Shroom Staff
Awards Committee
Ladies and Gentlemen! Welcome to the fourth annual Awards Mario Kart 8 Tournament!
We are your hosts, Lakituthequick and Freakworld!
So how will this tournament go?
Races will happen in groups of up to 10 people, depending on the amount of sign-ups. The amount of people that will move on will also be slightly dependant on the sign-ups, but will most likely be 3 or 4.
When will this happen?
Currently, the planning for the MK8 tournaments to happen is from 1 to 21 July, with the regular tournament first and the battle one after that. When specific people race is to be determined, also with availability and flexibility of the participants in mind. You will receive a survey several weeks prior to the event.
What are the racing rules?
Races will be 150cc, with All Items. On the course selection screen, you shall only choose for Random Course. This does not apply in the ultimate race, where you instead have to choose the Rainbow Road that was predetermined by public vote.
How do we communicate during the races?
During races, you are to join the IRC-chatroom #AwardsKart on DarkMyst. The easiest way to go there if you've never been there before is by going to
Special:Webchat
on the Wiki, and typing "/j #AwardsKart" once you're there. Don't hesitate to ask for help if needed.
LTQ or Freakworld will be in all races to act as referee and note down the results as well.

How do we connect in-game?
While Mario Kart 8 does have Tournament functions on its own, we shall not be utilizing those during the tournament. Instead, we will make use of the Friend Room functionality. This allows for more flexibility, longer lobby times, the optional use of the microphone and other things.
I'm interested, how do I sign up?
Very simple, post below with the name of your Mii, your NNID, your timezone (be mindful of daylight saving times), and which DLC packs you have.
I'd also be interested in 200cc, will you do that too?
We have plans for that, but we would like to know how many people would be in for that before we continue to that. If you have interest, do say so! If you are not interested in this tournament, but are in a 200cc tournament, please do post here!





















Group A





Ninelevendo

(07:00)

Turboo

(14:00)
Lord Bowser (14:00)
Luigi 64DD (16:00)
Nabber (17:00)

Lakituthequick

(23:00)




Group B





Freakworld (06:00)

Infinite8

(12:00)

Crackin355

(14:00)
PowerKamek (22:00)
Raven Effect (23:00)




Group C





winstein (05:00)
Fantanoice (07:00)

Alex95

(14:00)
4td0 (15:00)
Roy Koopa (17:00)

Cirdec

(23:00)

Lakituthequick (08:00)

Cirdec

(08:00)

Infinite8

(14:00)

Ninelevendo

(16:00)

Crackin355

(16:00)
Turboo (23:00)
Alex95 (23:00)

| | |
| --- | --- |
| Condition | Value |
| Winner of the tournament | 30​ |
| Runner-up of the tournament | 20​ |
| Third of the tournament | 15​ |
| First in a round | 15​ |
| Second in a round | 10​ |
| Won a race | 5​ |
| Second in a race | 2​ |
| Appeared for a round | 5​ |
| Eliminated in round 1 | 5​ |
| | |
| --- | --- |
| Player | Tokens |
| Infinite8 | 96​ |
| Cirdec | 70​ |
| Ninelevendo | 55​ |
| Crackin355 | 49​ |
| Alex95 | 32​ |
| Turboo | 27​ |
| Lakituthequick | 26​ |
| Luigi 64DD | 15​ |
| Freakworld | 15​ |
| Fantanoice | 15​ |
| Lord Bowser | 12​ |
| Nabber | 10​ |
| PowerKamek | 10​ |
| winstein | 10​ |
| 4td0 | 10​ |
| Raven Effect | 5​ |
| Roy Koopa | 5​ |