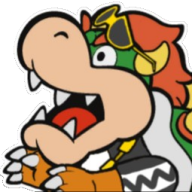 world's most valuable cat
Core 'Shroom Staff
Poll Committee
Welcome to the first-ever Super Mario Boards
killing game!
With your despair-inducing host, LB!
​
Hi there, people of the Mario Boards community!

You have all been cordially invited by me, Lord Bowser, to an extended stay at a lovely mansion! This mansion, nicknamed "Luigi's Mansion", features deluxe accommodations, a beautiful forest view, and everything you need to enjoy yourselves for a luxury vacation!

I am calling on at least 16 people here to sign up for this completely free trip, which also features a special event for all of those involved!

I hope this message reaches you all well, and I hope you all have a great time at the lovely Luigi's Mansion!
Sincerely yours,
Lord Bowser
​
Overview​
The Killing Game is a forum game inspired by the
Danganronpa
series of video games. The game has a few Mafia-like elements, but it overall progresses completely differently from traditional Mafia games.
In the Killing Game, players are assigned Ultimate Talents at the beginning. These Ultimate Talents determine what that player's best skill is, and also helps determine their powers and drawbacks. Some Ultimate Talents can be very powerful when used at the right time, so be sure to use them wisely!
The Killing Game uses a day/night system. During night phases, players send PMs to the host (in this case, me) detailing what they plan to do for that night. This can include attempting to kill someone, using their power, or quite literally do anything they please; this last option is what sets this apart from Mafia games, as there's no real limit as to what you can do... as long as it doesn't break the rules of both this game and the forums, of course! As such,
roleplaying is strongly encouraged in the Killing Game.
After everyone has sent in what their night plans are, they will receive a PM from the host summarizing what they did, along with anything they might have seen or heard.
During day phases, if someone's attempt to kill someone succeeds, the victim is found dead at the beginning of the day phase; the killer will also receive a token prize for successfully murdering. The goal of the killer is to cover up the fact that they did it, while the goal of everyone else is to correctly determine the killer. The players do this by providing accounts of what they saw during the night, along with any sort of evidence they might have on them or witnessed. After a while of investigation, the Class Trial begins. In the Class Trial, players may vote on who they think the killer is; the player with the most votes will be executed (lynched). Players may switch votes as many times as they please, though ties will end in a random lynch between those tied.
If the killer is correctly identified and lynched, the players will all receive a token prize. If an innocent player is lynched, however, the killer gains additional tokens for successfully covering up their murder. In both cases, the game continues with day and night phases.
The Killing Game is a free-for-all game; there are no teams, factions, or alliances to start off with, but you are free to create some amongst yourselves of course. Remember, though;
the game will only end when just one player remains!
Daily activity is a MUST for this game. If you feel that you can't make that kind of commitment, I do not recommend signing up.
During night phases, you have a maximum of 24 hours to send in your action PM to me. After 24 hours have passed, or the last the submission has come in, I will respond back to everyone, telling them what they did and saw. I will also post a summary of the crime scene, along with other potentially pertinent evidence. If you fail to submit an action PM, it is assumed you stay in the Parlor all night.
During day phases, you have 24 hours to investigate the death, though one extension of 12 hours will be granted if enough players request it. A few hours into the investigation, the Class Trial will be held, where people will vote on who they think the killer is. Vote tallies will be periodically posted by me.
Unless special conditions apply, only one kill attempt per night will succeed.
If no one submits a kill attempt during a night phase, a random player will be lynched, and the game will immediately go into the next night phase. Things that occurred in the previous night phase, however, will still apply.
I will provide an IRC channel on irc.darkmyst.org for discussions pertaining to the Killing Game. However, please avoid major developments there, as not everyone is on IRC; save those for the forums instead.
During both day and night phases, players must be careful to avoid their Forbidden Actions, or something terrible will happen to them!
1) Superchao
2) Freakworld
3) GBAToad
4) Shokora
5) Turboo
6) Meta Knight
7) Shoey
8) The Pyro Guy
9) Nabber
10) Fantanoice
11) Ninelevendo
12) Mariofan169
13) GSYoshi
14) DragonFreak
15) Toad85
16) MCD
---------- minimum and recommended signups ----------
17) Cirdec
18) Packy
19) Stargazing
20) Smasher
---------- maximum signups ----------
Replacements:
1) Roserade
2) Smg2daisy
3)
4)
If you have any additional questions, feel free to post them in this thread. I plan to host the Killing Game sometime in June, so be prepared by then! Good luck, and I hope you enjoy despair!