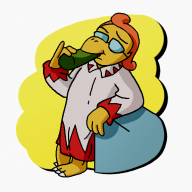 kero?
Chat Administrator
Core 'Shroom Staff
Awards Committee
Discuss general things here

This OP will be updated periodically, with other updates in new posts.
#mwikiawards chat party logs
backup logs just in case
If you were wondering why there weren't too many comments in the ceremony threads this year, it's because #mwikiawards was hippity-hoppin' with most of the commentary and interactions! Feel free to peruse these logs of the day.
Awards Ceremony
Friday, August 11th, 2017
Chat Party: - 2:00PM EDT (times as listed by [​time] and EDT)
#mwikiawards @ irc.darkmsy.org
Community Awards X
-
3:00 - Opening Script - Meta Knight
-
3:05 - C1. Favorite 'Shroom Directing Staff - The Pyro Guy
-
3:10 - C3. Favorite Artist - The Pyro Guy
-
3:15 - C9. Favorite Veteran 'Shroom Writer - Gabumon
-
3:20 - C4. Favorite 2016 Awards Presentation - GBAToad
-
3:25 - C11. Best 'Shroom Section Design - Palkia47
-
3:30 - C7. Favorite 'Shroom Core Staff - Meta Knight
-
3:35 - C5. Wiki Contributor Award 2017 - Gabumon
-
3:40 - C8. Favorite Retired 'Shroom Writer - Meta Knight
-
3:45 - C6. Favorite 'Shroom Team - Hypnotoad
-
3:50 - C13. Favorite 'Shroom Special Issue - Tucayo
-
3:55 - C10. Favorite New 'Shroom Writer - The Pyro Guy
-
4:00 - C2. Best 'Shroom Section Artwork - Palkia47 & Stargazing
-
4:05 - C12. Favorite Written 'Shroom Section of the Past Year - Yoshi876
-
4:10 - C14. 'Shroom Person of the Year 2016-2017 - MrConcreteDonkey
-
4:15 - C15. Outstanding Community Achievement Award - Gabumon
-
4:20 - Closing Script - Meta Knight
Fail Awards IX
-
4:35 - Opening Script - Turboo
-
4:40 - F1. Worst Character - Meta Knight, DragonFreak, & Lord Bowser
-
4:45 - F5. Worst Level Concept - NEXandGBX
-
4:50 - F14. Worst Setting - GBAToad (Part 1)
(Part 2)
-
4:55 - F10. Worst Game Mechanic - Freakworld
-
5:00 - F8. Worst Mario Kart Course - Alex95
-
5:05 - F4. Worst RPG Area - Stargazing
-
5:10 - F13. Worst Mario Party Minigame - MrConcreteDonkey
-
5:15 - F12. Worst Game Objective - Superchao
-
5:20 - F6. Worst Spin-off - Yoshi2
-
5:25 - F2. Worst 2D Level - Uniju :D
-
5:30 - F9. Worst Direction of Series - Fawfulthegreat64
-
5:35 - F7. Worst Enemy - DragonFreak
-
5:40 - F3. Worst 3D Level - LN1
-
5:45 - F11. Biggest Missed Opportunity - The Pyro Guy
-
5:50 - F15. Most Disappointing Game - Gabumon
-
5:55 - Closing Script - Turboo
Mario Awards XI
-
6:10 - Opening Script - Hypnotoad
-
6:15 - M1. Best Sound Design - DragonFreak
-
6:20 - M27. Favorite Boss Battle - DragonFreak
-
6:25 - M21. Favorite Puzzle Game - Yoshi2
-
6:30 - M28. Favorite Game Setting - Superchao
-
6:35 - M15. Hardest Boss -Lord Bowser
-
6:40 - M20. Favorite Sports Game - Alex95
-
6:45 - M11. Favorite Major Character - BBQ Turtle
-
6:50 - M14. Favorite Species - Nabber & Lord Bowser
-
6:55 - M17. Favorite Mario RPG - The Pyro Guy
-
7:00 - M13. Favorite Level Theme - Gamefreak75
-
7:05 - M26. Favorite 3D Level - Cirdec
-
7:10 - M2. Favorite Mario Kart Game - Magikrazy
-
7:15 - M5. Favorite DK Game - 4td0
-
7:20 - M6. Favorite Wario Game - Nabber
-
7:25 - M29. Favorite Classic Game (N64/GBC and older) - Snack
Intermission
-
7:35 - Bloopers
-
7:45 - M18. Favorite Mario Party Game - Turboo (Part 1)
(Part 2)
-
7:50 - M8. Favorite Art Style - Lakituthequick
-
7:55 - M3. Favorite Mario Platformer - Gabumon
-
8:00 - M19. Favorite Actor - Cirdec
-
8:05 - M9. Favorite DLC - Stargazing
-
8:10 - M10. Favorite Partner Developer - Smasher
-
8:15 - M22. Favorite Battle Course - Lakituthequick
-
8:20 - M24. Favorite Wario Character - GBAToad
-
8:25 - M4. Favorite Mario Kart Course - Smg2daisy
-
8:30 - M12. Favorite Supporting Character - Marshal Dan Troop & Hypnotoad
-
8:35 - M7. Favorite Yoshi Game - Meta Knight
-
8:40 - M25. Favorite 2D Level - NEXandGBX
-
8:45 - M23. Favorite DK Character - The Pyro Guy
-
8:50 - M16. Favorite Item - Lakituthequick
-
8:55 - M30. Favorite Modern Game (GCN/GBA and newer) - Toadbert101 & Super-Yoshi (Part 1)
(Part 2)
-
9:00 - Closing Script - Hypnotoad
Important Links:
Anniversary Page
Tentative Awards Schedule
2017 Full Awards List
2016 Full Awards List
Historical Results (2015 - )
Historical Results (2007 - 2014)
Awards 2016 Complete Results