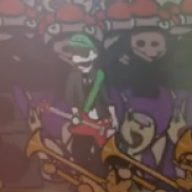 how about a rousing game of pool
Minecraft Games 2016
64.22.124.240
WINNINGS:

Turb 89
Tfp 78
Freakworld 68
Javelin 46
Snack 45
Woglril 31
2257 28
VocalBeat 25
Toadbert 24
Nex 20
Gabumon 17
Dragonfreak 6
Vruet 4
Yoshin 2

MVP Bonus Token Awards:

Each recipient earns 5 additional tokens

CTF:

2257, for helping to get the game to work to begin with

Footrace:

Turb, for 100% winningness

KOTH:

Nex, for exceptional bravery and hardiness

Go Fish:

Freakworld, for picking up the game immediately despite never having heard of it

Hunger Games:

VocalBeat, for getting sick plays that you can see in the epic frag video once its made

Loot Hunt:

Javelin, for coming in very late and still very nearly winning

Pearl Race:

Woglril, for persistence

Spleef:

Tfp, for getting spectators on the edge of their seats and for having invented the game to begin with


​
— to —
— to —
ALSO TOMORROW UNTIL
​
The games are finished! It was a lot of hard work (some of which wasn't completed in time) and a long endeavor to construct and program all of this. We were a little afraid our joke of "the most effort to the least turnout event" would be true, but thankfully, this year had the biggest Minecraft turnout yet, with up to 11 people playing concurrently, and 13 people participating in total barring the hosts. This was probably due to the fact that everyone who showed up has played on the server previously in New Princeton.
Another advantage from this, unrelated to attendance, is that the games will continue to be hosted 24/7. If anyone ever feels like it, they can call everyone with Minecraft to come back to play a game of KOTH or Spleef or whatever. We may also be planning to host another set of games during winter, perhaps with an enhanced Hunger Games, but we'll see.
Thanks to everyone who participated, in every event. It really was a blast to hit the tab menu and see it so full with people running amok in your own game. Some, like Freakworld, stayed up exceptionally late to make it to a good deal of events.
2257 also proved to be a huge help, providing scoreboard help that made Capture the Flag as functional as it was, (in a good way) as well as a great deal of stuff to explore and mess around with, including the pipe system, the bounce house, the fireworks, Nimbus Land and the redstone behind the hotel.
Snack is credited for also working on the bounce house and the Tornado roller coaster, which unfortunately went unnoticed by many. He also helped with the hotel.
In the days leading up to game day, Uniju and I were often frantically finishing and testing things up. Elsewhere, Turb was busting ass trying to get the Hotel completed and working, to the point that he would go to it in between events to get it done. From what I recall, Turb was also the guinea pig for a lot of early Spleef and KOTH debug, and made a great afk player to perform testing on.
Stdaro has been our benevolent host for a long time and put up with some real messes caused by us. (read: me and Javelin) Nonetheless, he still allowed us to host this and allow a ton of people he doesn't know to come on, which is pretty awesome.
Lastly, Uniju, who came to me to set up this partnership in hosting this. We played on the previous Minecraft games of LTQ and Pyro's and clearly mutually felt this would be a fun thing to do ourselves. Without Uniju's connections, trying to host this and have 11 people join would've been a catastrophe of server lag. Uniju covered my slack in a few areas, sometimes creating entire events in a day or two. He may also be the reason the games carried through, as I was feeling tremendously burnt out with this Awards year, what with Final exams, the Art Contest and my comic presentation (this was before we got a month's extension). He kept me working on the games instead of scrapping them as I likely would've.
That's about it. Thanks again everyone, and if you ever do get a game going again, chances are I'd like to play.
Uniju and I are hosting a couple days of in-game minigames. We will be playing on Stdaro's server, whose IP address is given above. (this is the same server hosting New Princeton) Everyone is welcome to join and participate for whatever events they want.
Games are estimated to last about 45 minutes, with a 15 minute break between each. Each will be worth varying amounts of tokens and (possibly) rewards to bring back to New Princeton, to be determined shortly. The ordering is as follows:
Day 1:
*Loot Hunt
*Pearl Race
*Capture The Flag
*Spleef
Day 2:
*Hunger Games
*Go Fish
*Footrace
*King of the Hill
All event:
*Construction (will be accessible 24/7 from the beginning of the first day of the games until )
There are also several fun areas, gambling events and unusual things to tinker with, play, or check out during downtime.
Winners and Various Pictures
​
Loot Hunt
Loot Hunt takes place in a sheltered village, with many a secret to locate. Participants wandered in and out of houses, and in and out of their minds attempting to complete parkour. Freakworld claimed many duplicate items, Javelin came in late, and everyone got stuck in the hole in the dirt.
The goal was to find as many unique items hidden through the map as possible. Some were obvious, some were unattainable, some were hidden behind monstrous jumping puzzles, and some required too much cooperation for the crew to handle.
1st Freakworld 40 items
2nd Javelin 36 items
3rd Snack 35 items
4th Nex 25 items
4th Turb 25 items
6th Woglril 23 items
7th TFP 22 items
8th Yoshin 18 items
Pearl Race
Pearl Race was an event where everyone punched each other incessantly before it began. It was about throwing pearls, not that you'd know though.
People slammed into each other, got turned around, and achieved high levels of saltiness during this event. A few even escaped the map. Even still, there was no way out until the race was done.
1st Toadbert
1st Freakworld
2nd 2257
3rd Turb
4th Javelin
5th Tfp
6th Nex
7th Woglril
CTF
Capture the Flag was a project completed entirely on time for it's scheduled playthrough. There wasn't any hitch, like vanishing inventories or duplicating flags- just good old fashioned teleporter stalling and manual redstone activation.
The mechanics (that are refined) worked pretty well, and with a bigger map, this could be pretty hype next year.
Big props to 22 for insider info on how to even make this work.
Games are played to three captures.
Win Count:
4 Uniju
4 Tfp
4 Turb
3 Toadbert
3 Freakworld
3 Nex
3 Wogl
2 2257
2 DragonFreak
2 Snack
0 Javelin
Game 1:
Blue: Toadbert, Javelin, 2257, Freakworld
Red: Uniju, Tfp, Turb, Nex
Red wins 3-1 (Because I unknowingly was carrying their flag for half the game and no one could find it to score with)
Game 2:
Blue: Toadbert, Javelin, 2257, DragonFreak, Freakworld
Red: Uniju, Tfp, Turb, Nex, Snack, Woglril
Red wins 3-1
Game 3:
Blue: Toadbert, 2257, DragonFreak, Freakworld, Nex
Red: Uniju, Tfp, Turb, Snack, Woglril
Blue wins 3-2
Game 4:
Blue: Toadbert (captain), 2257, Snack, Turb, Nex
Red: Uniju (captain), Tfp, DragonFreak, Freakworld, Woglril
Red wins 3-2
Game 5:
Blue: Turb (captain), Freakworld, 2257, Tfp, Toadbert
Red: Snack (captain), DragonFreak, Nex, Uniju, Woglril
Blue wins 3-1
Game 6:
Blue: Toadbert (captain), Turb, Snack, Uniju, Woglril
Red: Tfp (captain), 2257, DragonFreak, Freakworld, Nex
Blue wins 3-2
Spleef
Departing from CTF, which some wanted to stay at, and some didn't want to play, things turned out well. Walls were broken down, TFP learned what happens to campers, Hosts were left out of the game, and everyone learned the value of a dollar.
The arena can switch between eight game modes, allowing this event to actually use its time slot with somewhat new gameplay the whole time.
Average Ranking: (Ranking values are averaged and multiplied by (Games Total)/(Games Present For) to account for games missed out on)
1st Uniju 3.10
2nd Toadbert 3.54
3rd Turb 5.20
4th Tfp 5.30
5th Javelin 5.40
6th Freakworld 5.50
7th Snack 6.90
8th Nex 7.20
9th Woglril 7.40
10th 2257 7.70
11th DragonFreak 9.16
Game 1 (Glass):
1st Toadbert
2nd Tfp
3rd Uniju
4th Turb
5th Freakworld
6th Snack
7th Nex
8th DragonFreak
9th Javelin
10th Woglril
Game 2 (TNT):
1st Toadbert
2nd Uniju
3rd Javelin
4th Turb
5th 2257
6th Freakworld
7th Tfp
8th Snack
9th Woglril
10th DragonFreak
11th Nex
Game 3 (Snow):
1st Javelin
2nd Tfp
3rd Uniju
4th Freakworld
5th Turb
6th Nex
7th Snack
8th 2257
9th Woglril
10th DragonFreak
Game 4 (Leaves, Walls, Columns):
1st Nex
2nd Toadbert
3rd 2257
4th Woglril
5th Tfp
6th Freakworld
7th Uniju
8th Turb
9th Snack
10th Javelin
Game 5 (Slime, Columns):
1st Toadbert
2nd Woglril
3rd Uniju
4th Snack
5th Freakworld
6th DragonFreak
7th Javelin
8th Tfp
9th 2257
10th Turb
11th Nex
Game 6 (Repairing Floor (Piston), Walls, Columns):
1st Turb
2nd Javelin
3rd Toadbert
4th Tfp
5th Freakworld
6th Nex
7th Uniju
8th DragonFreak
9th Snack
10th Woglril
11th 2257
Game 7 (Glass, Walls, Columns):
1st Uniju
2nd Turb
3rd Toadbert
4th Tfp
5th Javelin
6th Woglril
7th Nex
8th Freakworld
9th 2257
10th DragonFreak
11th Snack
Game 8 (Repairing Floor (Random), Walls, Columns):
1st Uniju
2nd Javelin
3rd Toadbert
4th Turb
5th 2257
6th DragonFreak
7th Snack
8th Tfp
9th Freakworld
10th Nex
11th Woglril
Game 9 (TNT, Columns):
1st Freakworld
2nd Tfp
3rd Uniju
4th Nex
5th Javelin
6th Snack
7th Toadbert
8th Woglril
9th 2257
10th DragonFreak
11th Turb
Game 10 (Glass):
1st Uniju
2nd Snack
3rd Turb
4th 2257
5th Woglril
6th Freakworld
7th DragonFreak
8th Toadbert
9th Nex
10th Javelin
11th Tfp
Footrace
Footrace was perhaps the least finished of the events leading up to the games, but luckily the redstone was solid™. Taking place in a heavy, Snack-disapproving forest, players simply ran through to the end of three laps. There's a massive pit in the ground with downed logs, a fort with a spiral staircase, and slime and ice traps for whatever reason. People fought for a ladder, and we left Nex behind completely on Race 1 by accident.
This event ended up really short because two races was basically enough, but whatever y'know
Final Scores: (Ranks averaged and multiplied by (Games total)/(Games player attended) to account for games player missed)
1 Turb
2.5 Javelin
4 Tfp
4 2257
5 Freakworld
6 Vruet
6 Nex (exempt from multiplier, was accidentally left out of Race 1 despite being present)
6.5 DragonFreak
Race 1
1st Turb
2nd Javelin
3rd Vruet
4th 2257
5th Freakworld
6th DragonFreak
Race 2
1st Turb
2nd Tfp
3rd Javelin
4th 2257
5th Freakworld
6th Nex
7th DragonFreak
Go Fish
Go Fish, historically located in the Diner and nowhere else, is a game of cunning skill and understanding of your enemy. Players sit at a table with nothing but moonlight above them, and grab cards. They ask for more cards until they achieve a monopoly. Food items are thrown around, cards are given to the wrong people, other people fall off the vines growing through the room, and more.
Sets are all four of a suit.
Game 1
Toadbert 3 Sets
Tfp 3 sets
2257 2 sets
Freakworld 2 sets
Turb 1 set
Snack 1 set
Game 2
Freakworld 3 sets
Tfp 2 sets
Turb 2 sets
Uniju 2 sets
Snack 1 set
Toadbert 1 set
2257 1 set
Hunger Games
Hunger Games required scouting out some suitable terrain in New Princeton's wilderness. Uniju's plan was to split everyone into two teams, and have them battle to the death. Each player had five lives until they were out. Technical difficulties arose, ending the game prematurely, however. We'll try it again later.
KOTH
In what is perhaps the most hyped, most complicated, and most ripped off from Overwatch, KOTH was gonna be a good time. Being heavily structured and tested beforehand, the first two games went swimmingly. People ran around, grabbed whatever weapons were thoughtfully provided by the map, and brutally murdered each other to paint the floor in a Chinese tower. Toadbert learned how to fly cartoon style, and Nex discovered how to be a literal tank, surviving blows from all four of the opponents for a prolonged period.
Game 3 was an extremely tight game, so much so that it broke it. Each team made it to the brink of winning, which naturally triggered overtime. However, overtime never ended, and neither did the high octane fight for the point, resulting in us forcing to use manual intervention to finally finish the match. Desiring all that effort not to be fruitless, we made it a win for everyone.
Number of wins (including ties)
Tfp 3
Javelin 2
2257 2
Nex 2
Freakworld 2
Turb 2
Snack 2
Vruet 1
Round 1
Blue: Javelin, Nex, Snack, Tfp
Red: 2257, Freakworld, Toadbert, Vruet
Blue wins!!!!!!!
Round 2
Blue: Javelin, Nex, Snack, Vruet
Red: 2257, Freakworld, Turb, Tfp
Red wins!!!!!!!!!
Round 3
Blue: Javelin, Freakworld, Nex, Tfp
Red: 2257, Turb, Snack, Vruet
It's a draw!!!!! - jeff kaplan
Side Events / Minigames
New Hunger Games
Uniju scouted out a new location for Hunger Games (adjacent to the old location) and gathered everyone available to play. Toadbert didn't know of the new location, and was permitted to play.
The beginning of the game kicked off with an alliance between Turb and Tfp. Snack took to higher ground to scout out opponents, and uncovered a mineshaft in the act, leading to many resources very quickly.
Vruet, VocalBeat and Snack suffered losses early on due to mobs in the field. Snack soon pulled ahead, managing to murder VocalBeat and Vruet quickly, and then taking down Tfp and Turb. Meanwhile, Woglril had enacted a pacifist policy, seeking to harm no one. Toadbert entered a cave system that proved to be more dangerous than it was worth.
Following his murder, Vruet forfeited his last life to spectate. Upon revival, Tfp respawned in front of Snack, who cut him down again. Tfp then also forfeited the game to spectatordom. Turb escaped the carnage and found Toadbert in the woods, and attempted to truce. Toadbert had made a good deal of skeleton enemies in the cave, and was suddenly killed by a spider.
Night had fallen, but Toadbert made it back to his equipment. Mobs were still aplenty, so he retreated into the cave and abandoned Turb. Turb also entered deep into the cave, very weak and attempting to cultivate some food. Snack's might continued to grow, but so did VocalBeat's.
Spotting others above him, Toadbert fled the cave to the mountains, where he spotted Wogl. Wogl made her way down into Snack's lair, where Toadbert eventually pursued, where he was in turn hunted by Snack. Wogl managed to escape the mountain, but shortly after Toadbert gave up his hunt and left the cave, Snack engaged and killed him.
Toadbert attempted to mine to get restarted, but Snack found him again and used a flint and steel to end his place in the game. Meanwhile, Turb settled into his cave, making it a cozy home, still unable to produce bread. Wogl was soon spotted by Snack around the island, but she was able to outwit him and escape by swimming deep in the water.
VocalBeat and Snack ended up meeting outside the mountain lair, where VocalBeat made a mad dig into the ground to escape. While Snack left to fetch a block of TNT, VocalBeat snared himself in a poisonous Spider nest, trapped in place. Digging carefully, he escaped and made his way into fresh tunnels in the mineshaft. Snack made his way to VB's hiding spot through the tunnels, but lost sight of his target behind a wall sealing off the tunnel. Snack broke open the wall, finally realizing VB had constructed the blockage. Acting quickly, VB dumped lava onto Snack through the wall, which trapped and killed him.
Snack recuperated from the losses and continued pursuit. Wogl managed to encounter both VB and Snack again, while making away peacefully. Snack found VB in open savannah on the other side of the map, and began another battle. VB was able to launch a fishing rod at Snack several times before trapping and killing Snack with lava yet again.
With Snack out of the game, Wogl was for the most part safe. She made her way back to his lair and took up residence in his safe room, watching the door for any sign of trouble. Turb had managed to lose even more health in this time, and began digging tunnels to mine. VB, ruler of the topside, started a new mine for fresh materials.
By pure chance, VB's tunnel intersected one of Turb's, and VB slipped past Turb into the cave home. Turb, deep in the tunnel, turned around to head back, but encountered the breach of his mine and continued on to warily inspect his home. VocalBeat took Turb by surprise and cornered him into the cave's tree farming room, and killed Turb instantly by dumping lava down the steps to ooze onto him.
This was the last kill of the game, but Turb went on to spawn on the mountain. He found Wogl and shared the safe room for a period, before continuing onward to try and start anew in a new cave with a Zombie dungeon. VB made use of Turb's old cave, before continuing to mine for materials. Wogl set out wandering the topside some more.
We determined no one was in much mood to see the game to a technical finish after so many close calls and high action fights, so we did the typical course of action in these games and called a nonviolent end between multiple people.
Turb and VB's two deaths put them in joint third place. Wogl's excellent flight and calmness kept her from dying once, and earned her first place.
1st Woglril - 0 deaths
3rd Turb - 2 deaths
3rd VocalBeat - 2 deaths
4th Snack - 3 deaths, out
5th Toadbert - 3 deaths, out
6th Tfp - 3 deaths, out
7th Vruet - 3 deaths, out
Construction - Sprite Art
Honor the likeness of Mr. Game and Watch with any character of your choosing.
1st Turb - Lina Inverse
2nd VocalBeat - Queen Diamond
3rd Tfp - Nico Yazawa
4th Freakworld - Majora's Mask
Construction - House
Everyone builds a house, or a building like structure.
1st Gabumon - Apocalypse bunker and snowfield
2nd Snack - Suburban house with working lighting
3rd Freakworld - Library
Construction - Redstone
Make something functional and impressive.
1st Snack - Suburban house with working interior lighting, door unlock combo via item frames, master lock, mailbox fill indicator, magazine mailbox, and interior panel showing status of latter four
2nd Javelin - Stone generators rigged to pistons to make a self repairing stone floor, powered by multiple clocks and toggled by T flip flop
3rd Freakworld - Elevator using double piston extensions to transport players ~8 blocks/s vertically
4th Gabumon - Lever controlling a torch
After Minecraft's absence in 2015, Uniju and I decided to host a tournament once again this year, and right now this topic is just going to be gauging interest. Planned events include:
Capture the Flag
Go Fish
Racing
Spleef
Building Contests
Hunger Games
Gambling
Grazing
Feats of Strength
And maybe more, who knows
For now the list looks pretty similar to LTQ and Pyro's games, but we are open to suggestions and have more ideas of our own we can attempt if time permits. Anyway, I guess just post if you'd be interested in joining, and maybe what events specifically?