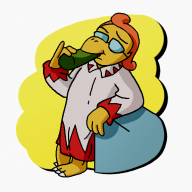 kero?
Chat Administrator
Core 'Shroom Staff
Awards Committee
彡:匚〉 ミ:匚〉 彡:匚〉
Tokens
くコ:彡 くコ:ミ くコ:彡
Starting this topic a bit early just because. Please use this topic to discuss things related to tokens this year; donations, refunds, errors in the list, any other questions or concerns. If tournament hosts would like to ask about what they should offer as prizes, they are free to ask here or in private.
Keep in mind that the token price of prizes will be increasing this year due to having substantially more tournaments running and offering tokens. The idea as of posting this is a general 1.5x increase, but that is subject to change as more tournaments complete and give us a better idea of what's going on. The Prizes topic will go up
late August, after or around when all tournaments are ending.
or maybe earlier if I feel like it who knows