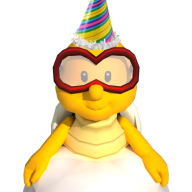 Celestial Guide
Core 'Shroom Staff
Awards Committee
Good day dear people of this planet. Welcome to the second
Mario Kart 8
Tournament to date. My name is Lakituthequick, and I'll be hosting this Tournament.

Races will happen in groups of up to 10 people, depending on the amount of sign-ups. The amount of people that will move on will also be slightly dependant on the sign-ups, but will most likely be 3 or 4.
The races will happen from 20 July to 2 August. When specific people race is to be determined, also with availability and flexibility of the participants in mind.
While Mario Kart 8 does feature Tournament functions on its own, we shall not be utilizing those during this Tournament. Instead, we will make use of the Friend Room functionality. This allows for more flexibility, longer lobby times, the optional use of the Microphone and other things.
During races, you are encouraged to join the IRC-chatroom #AwardsKart on DarkMyst. The easiest way to go there if you've never been there before is by going to Special:Webchat on the Wiki, and typing "/j #AwardsKart" once you're there. Don't hesitate to ask for help if needed.
Have fun!

On the course selection screen, you shall only choose for Random Course. This does not apply in the ultimate race, where you have to choose any Rainbow Road instead.
Races will be 150cc, All Items.
I will be in any race as a referee and to record Mario Kart TV footage, which will be uploaded to YouTube soonish after.
DLC will not be required, but a note will be made about who owns which packs for matchmaking, if possible.

When signing up, please specify your timezone (abbreviation or a city in that zone, not just an offset), NNID, Mii name and which DLC Packs you possess.































Group A




1437391800





Freakworld (13:30)
Lakituthequick (13:30)
Cirdec (13:30)
Winstein (19:30)
Crackin355 (21:30)
Fantanoice (21:30)
SKmarioman (21:30)




Group B




1437427800





GameFreak75 (14:30)
Turboo (14:30)
Super-Yoshi (14:30)
Glitchy (17:30)
Fawfulthegreat64 (17:30)

-




Group C




1437868800





Meta Knight (17:00)
NEXandGBX (19:00)
Stargazing (20:00)
GalacticPetey (20:00)
Uniju (20:00)
Viper26 (20:00)
Nysic (20:00)
Infinite8 (08:00)




Group D




1437858000





PowerKamek (15:00)
GutsehMan (16:00)
Raven Effect (16:00)
Nabber (17:00)
SonicMario (17:00)
Lumastar (17:00)
Pyro (17:00)
RandomYoshi (23:00)




Group A




1437962400





Gamefreak75 (19:00)
Turboo (19:00)
GutsehMan (21:00)
Fawfulthegreat64 (22:00)
Nysic (22:00)
SonicMario (22:00)




Group B




1438002000





NEXandGBX (08:00)
Raven Effect (08:00)
Freakworld (15:00)
Infinite8 (21:00)
Crackin355 (23:00)
SKmarioman (23:00)

1438354800
Turboo (08:00)
Fawfulthegreat64 (11:00)
Nysic (11:00)
Freakworld (17:00)
Crackin355 (01:00)
SKmarioman (01:00)

| | |
| --- | --- |
| Winner of the Tournament | 30 |
| Runner-up of the Tournament | 20 |
| Third of the Tournament | 15 |
| First in a Round | 10 |
| Second in a Round | 8 |
| Third in a Round | 5 |
| Appeared for a Round | 5 |
| Eliminated in Round 1 | 5 |
[td]Tokens[/td]

[tr][td]SKmarioman[/td][td]75[/td][/tr]
[tr][td]Nysic[/td][td]63[/td][/tr]
[tr][td]Crackin355[/td][td]48[/td][/tr]
[tr][td]Turboo[/td][td]33[/td][/tr]
[tr][td]Freakworld[/td][td]31[/td][/tr]
[tr][td]Fawfulthegreat64[/td][td]28[/td][/tr]
[tr][td]Raven Effect[/td][td]20[/td][/tr]
[tr][td]SonicMario[/td][td]18[/td][/tr]
[tr][td]GutsehMan[/td][td]15[/td][/tr]
[tr][td]Gamefreak75[/td][td]15[/td][/tr]
[tr][td]NEXandGBX[/td][td]15[/td][/tr]
[tr][td]Infinite8[/td][td]13[/td][/tr]
[tr][td]Viper26[/td][td]10[/td][/tr]
[tr][td]GalacticPetey[/td][td]10[/td][/tr]
[tr][td]Lumastar[/td][td]10[/td][/tr]
[tr][td]Stargazing[/td][td]10[/td][/tr]
[tr][td]Nabber[/td][td]10[/td][/tr]
[tr][td]Lakituthequick[/td][td]10[/td][/tr]
[tr][td]Meta Knight[/td][td]10[/td][/tr]
[tr][td]Super-Yoshi[/td][td]10[/td][/tr]
[tr][td]RandomYoshi[/td][td]10[/td][/tr]
[tr][td]Uniju[/td][td]10[/td][/tr]
[tr][td]winstein[/td][td]10[/td][/tr]
[tr][td]Cirdec[/td][td]10[/td][/tr]
[tr][td]Pyro[/td][td]10[/td][/tr]
[tr][td]fantanoice[/td][td]5[/td][/tr]
[tr][td]PowerKamek[/td][td]5[/td][/tr]
[tr][td]Glitchy[/td][td]5[/td][/tr]