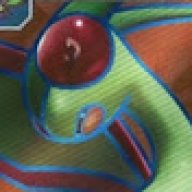 Everything that drowns me makes me wanna fly!
Welcome to the second ever Yu-Gi-Oh Tournament! For more info, CHECK this thread.

Last year we had eight participants and the event was pretty well received. This year I hope to at least keep that amount of participants or more. All levels of skill are welcomed. And if you want to join just because of tokens, well unless we get something like 30 sign ups, it's safe to say that there will be guaranteed tokens.

I'm not sure if the tournament is going to be something like Single Elimination Brackets or Round Robin yet. It all depends on the amount of participants.




SIGN-UPS:

1. DragonFreak (DragonFreakgm68)
2. Freakworld (Freakworld)
3. Crackin (Crackin355)
4. Icemario (Icemario11)
5. Stargazing (stargazingx13)
6. Chibiki Daisy (RedRozen)
7. LN1 (GenericLuigiDude)
8. Meta Knight (MetaKnightmareUltra)
9. Edo (gb3792)
10. Vocal Beat (Vocal Beat)

Rules (PLEASE read!):
1. Your must adhere to the official TCG banlist. When constructing your deck, or looking at your deck, cards with a "no" symbol cannot be used. Also, cards with "1" or "2" on them mean you can only use that NUMBER in your deck.
2. We will be using the format TCG/OCG, meaning that we will be using the TCG format but you can use OCG only cards. If you don't know what that means, it's ok, as long as it complies with the above it should be fine.
3. All methods of summoning are allowed. Last year we banned Pendulum Summoning because I don't know, but you can use them if you really want to.
4. Matches are best two out of three
5. You must use the same deck throughout the tourney. No siding, no adding or removing cards. etc. No siding or use of side deck between MATCHES.
6. Refer to the officiator if you are confused or there is a disagreement.
7. Exodia, Lock-Down, Burn, and Deck Out decks are banned. They are cheap decks and take away from the spirit of Awards





DragonFreak's Games
-Freakworld: 1
-Crackin: 1
-Icemario: 1
-Stargazing: N/A
-Chibiki Daisy: N/A
-LN1: 1
-Meta Knight: N/A
-Edo: N/A
-Vocal Beat: 1
Total: N/A

Freakworld's Games
-DragonFreak: 0
-Crackin: N/A
-Icemario: N/A
-Stargazing: N/A
-Chibiki Daisy: N/A
-LN1: N/A
-Meta Knight: N/A
-Edo: N/A
-Vocal Beat: N/A
Total: N/A

Crackin's Games
-Freakworld: N/A
-DragonFreak: 0
-Icemario: N/A
-Stargazing: N/A
-Chibiki Daisy: N/A
-LN1: N/A
-Meta Knight: N/A
-Edo: N/A
-Vocal Beat: N/A
Total: N/A

Icemario's Games
-Freakworld: N/A
-Crackin: N/A
-DragonFreak: 0
-Stargazing: N/A
-Chibiki Daisy: N/A
-LN1: N/A
-Meta Knight: N/A
-Edo: N/A
-Vocal Beat: 0
Total: N/A

Stargazing's Games
-Freakworld: N/A
-Crackin: N/A
-Icemario: N/A
-DragonFreak: N/A
-Chibiki Daisy: N/A
-LN1: N/A
-Meta Knight: N/A
-Edo: N/A
-Vocal Beat: N/A
Total: N/A

Chibiki Daisy's Games
-Freakworld: N/A
-Crackin: N/A
-Icemario: N/A
-Stargazing: N/A
-DragonFreak: N/A
-LN1: N/A
-Meta Knight: N/A
-Edo: N/A
-Vocal Beat: N/A
Total: N/A

LN1's Games
-Freakworld: N/A
-Crackin: N/A
-Icemario: N/A
-Stargazing: N/A
-Chibiki Daisy: N/A
-DragonFreak: 0
-Meta Knight: 1
-Edo: N/A
-Vocal Beat: 0
Total: N/A

Meta Knight's Games
-Freakworld: N/A
-Crackin: N/A
-Icemario: N/A
-Stargazing: N/A
-Chibiki Daisy: N/A
-LN1: 0
-DragonFreak: N/A
-Edo: N/A
-Vocal Beat: 0
Total: N/A

Edo's Games
-Freakworld: N/A
-Crackin: N/A
-Icemario: N/A
-Stargazing: N/A
-Chibiki Daisy: N/A
-LN1: N/A
-Meta Knight: N/A
-DragonFreak: N/A
-Vocal Beat: N/A
Total: N/A

Vocal Beat's Games
-Freakworld: N/A
-Crackin: N/A
-Icemario: 1
-Stargazing: N/A
-Chibiki Daisy: N/A
-LN1: 1
-Meta Knight: 1
-Edo: N/A
-DragonFreak: 0
Total: N/A