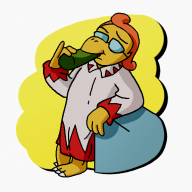 kero?
Chat Administrator
Core 'Shroom Staff
Awards Committee
Participants:

To sign-up, just post in this topic here if you would like to join along with your Steam ID and characters that you main/feel comfortable playing as.




Dates:



Sign-ups: Closed July 1st

Qualifiers: June 1st - June 30th Completed
These are simply practice runs for everyone just to see where everyone's skill level is at to help make match-ups more fair and balanced. It's also to help me figure out the best method to approach this tournament. These matches do not need to be done with me necessarily present, but at least provide me with a screen shot of the final results and perhaps some feedback from players about each other, nothing too extreme.

Tournament: July 8th - End of August (latest)



Rules and Restrictions(as of now):


*Starstorm DLC is not required since we will not be using the alternate game modes it provides, but owning the DLC will provide you with more character options.
*You are allowed to change character between each match.
*Characters will not be banned, and stages will be randomized.
*Four people will be sitting out each round, but they can serve as replacements for someone playing if necessary. Please discuss this with me prior to doing so.
*Tokens will not be based off of solely Solar-intake or amount of kills, or total wins and losses, but a combination of these in context to feedback from teammate as to how well your contribution to the team was. Smaller prizes for other things may be awarded (most kills total, etc.)
*A screenshot of the results of each game are required.



Format(as of now):


*Modified Swiss system of some sort.
--Non-elimination.
--Matched up against players with similar win/loss records and skill, with consideration put into character preference to maintain balance.
--Effort will be put in to make sure you play every individual an equal amount of times, with the tournament ending after everyone has played everyone else at least once (or twice).
--Tokens are based on your overall ranking determined at the end of the tournament.


I've decided, to make things easier since I know it's hell to get 6 people from around the world online for a length of time at once, there's not gonna be weekly deadlines for matches, but instead just one big one at the end. I will roll out 1 new round each week, but will collect matches only as they come up.

With doing this I hope it eases things up on people but doesn't encourage you all to wait until 2 days before the end to try to get 6 matches in. If this does become a problem I'll address it when it comes up.

The big super final deadline I will then relocate to the end of August.
Info:



Singles, rather than teams, looks like the best method to approach this. This OP will change as sign-ups go on and more information is confirmed.

If you would like to purchase Awesomenauts to participate in this tournament and just in general, I'd recommend waiting until the Summer Sale and seeing if you can team up with 2 other people to get the 3-pack and save some cash.

Please use this thread to ask questions, discuss whatever, find people to help practice with, any ideas on the tournament format, or whatever else.