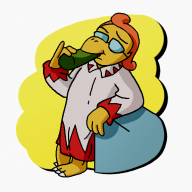 kero?
Chat Administrator
Core 'Shroom Staff
Awards Committee
So from the way
discussion
went and ended up, the idea we had was something like
Anyone with tokens 2 or more years old with a sum greater than the highest priced prize is subject to our new expiration policy
*The excess tokens above the threshold will receive a 50% cut.
*This will take place after the prize distribution (ex. at the end of 2016, rather than at the beginning, tokens earned in 2014 and older will be subject).
*This will not include any new tokens earned in the total, each group of which will be kept track of here.
For example, if this year's current highest priced prize is 200 tokens, that would mean that this would apply to anyone with tokens from 2013 or older with a sum greater than 200. Someone has 500 tokens total, with 50 earned in 2015 and 100 earned in 2014, with 350 tokens earned from before. As the 350 is higher than the highest prize of 200 it would be subject to this. Out of 350, 200 of them are set aside as that's the highest prize amount, and the remaining 150 would receive a 50% deduction --> 75, leaving the person with 275 old tokens total, and a net of 425.
I'm trying to find a more succinct way to say this, or put it in better wording, and still include all of the information. Also maybe a better example ?????
The reasoning for this is to help keep control of our little token economy we've got going here as to not have to start inflating prices and stuff; and also to encourage people to spend their tokens, as that's what they're for.
Prize selection order will start with the people with the highest amount of tokens earned in the current year.
Either way is this something that people would be comfortable with? If such a thing were to be implemented, it would go into effect next year assuming that the 2016 Director and AC will comply.