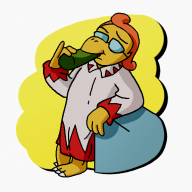 kero?
Chat Administrator
Core 'Shroom Staff
Awards Committee
Item Limits:
-You are allowed to pick 1 big prize and 1 small prize, or 0 big prizes and up to 2 small prizes, with small prizes being TF2 items, low-cost dlc, emoticons, and trading card sets, and big prizes being everything else (digital games and shop points).
-Buying two of the same item is not allowed.
Your storage contacts are
The Mushroom Vault
, a shared account used by awards staff to distribute prizes, and
PsychoKamek
.
Please send Anton (me), Smasher or Superchao a PM with your Steam username if you would like to donate prizes to the account.
Prize order + token list
(put donations in the
tokens topic
, please)
Everyone will have 48 hours after the last person has selected their prize(s) to choose their own until they are skipped. After everyone takes their turn once, the list will start again from the beginning until all prizes or tokens are exhausted, or everyone is done.
*While we may contact people individually, we are not responsible for doing so. If you miss your turn and are skipped, you must wait until the next cycle.
*Obvious inactive people will either be skipped entirely or given less time; this will be taken as it goes. This is so it doesn't take 6 years to get through the list.
**If you've been assumed inactive and skipped, but show up at some point, we may decide to let you go next.
*People are not allowed to officially reserve prizes for themselves, but some may allow it as a courtesy. No one is bound to this.
**If you know you're going to be away/inactive during the time you would be selecting a prize, you can provide a few options for us to select on your behalf and we'll do our best to accommodate.
*It's possible during the course of distribution that some prizes may become unavailable, or more prizes will be added. We will do our best to make these changes as fair as possible.
List of Prizes:
Steam Games
3DS Games
*NA only
Wii U Games
*NA only