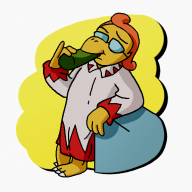 kero?
Chat Administrator
Core 'Shroom Staff
Awards Committee
Here's the award as it stands now:
Worst Final Smash: (Puff Up (Jigglypuff), Konga Beat (Donkey Kong), Palutena's Army (Pit), Mario Finale (Mario), Cook Kirby (Kirby), Beast Ganon (Ganondorf), Power Suit Samus (Zero Suit Samus), Peach Blossom (Peach))
We can fit 7 more so just lob your ideas in here.
Some ideas from the meeting were:
*Ultra Sword (Kirby)
*Super Pac-Man (Pac-Man)
*Dream Home (Villager)
*NES Zapper Posse (Duck Hunt)
*Power Star (Rosalina)
I will create a poll if necessary in the next day or so.