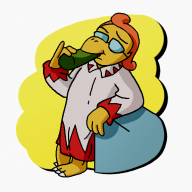 kero?
Chat Administrator
Core 'Shroom Staff
Awards Committee
As this is the one UP award that will most likely need the most work regarding nominees I figured I'd just start by doing this instead of coming to the inevitable conclusion halfway through searching myself
Here is a list
of direct links to most of the presentations, barring Mario Awards. Last year we had 9 nominations so don't feel the need to fill it all the way to 15, although last almost universally the presentations were good. Pick the best, not just fillers.
I'll lob some of my favorites in here whenever I get to it.
soz it's U6 not U7 lol