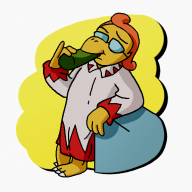 kero?
Chat Administrator
Core 'Shroom Staff
Awards Committee
In the upcoming meeting both A29 and A30 will be finalized with new nominees so why not start up with thinking about those right now? A29 might need some more help, while A30 already stands at 15 nominees, but here's the current standing:
A29 - Favorite Classic Game (N64/GBC and older)
(Super Mario World, Super Mario 64, Paper Mario, Super Mario Bros. 3)
A30 - Favorite Modern Game (GCN/GBA and newer)
(Paper Mario: The Thousand-Year Door, Super Mario Galaxy, Super Mario Sunshine, Super Mario Galaxy 2, Mario Kart Wii, Super Mario 3D Land, Super Paper Mario, New Super Mario Bros U, Luigi's Mansion: Dark Moon, Super Mario 3D World, Mario & Luigi: Bowser's Inside Story,
Super Smash Bros 3DS/Wii U, Yoshi's Woolly World, Mario Party 10, Captain Toad: Treasure Tracker
)
Changes and ideas will be reflected in
the Full List
.