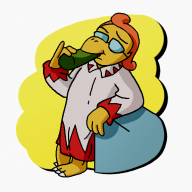 kero?
Chat Administrator
Core 'Shroom Staff
Awards Committee
To discuss things in general.

This OP will be updated with general things and to-do lists and whatever general nonsense is going on.


First up will be Awards Committee Membership invitations. These are given to people who've been good and hardy members of the AC in that past, and will be done early February, along with a list of bans. I'll post that....eventually....in a separate post and you guys can feel free to add/remove/do whatever until the invitations are sent out.
~For Anton, Smasher, and Blocky~
General immediate to-do list for official pages and stuff whatever
*Move 2014 Anniversary page to sub-page
*Finish 2014 page (add links to ceremonies, etc.)
*Create 2015 Awards page on the same link, just update info
*Write / send out AC invitations
*Public Board
*Complete 2013 and 2014 sections for Historical Results
*Begin piling together award notes, changes, etc. i.e. Meeting Ideas (Put in marioawards google doc)
*Further comments are in Notes document
Important Links:
Anniversary Wiki Page
Full List 9
Complete Awards Schedule (Tentative)
2015 AC Attendance
@marioawards twitter account
#mwikiawards
Historical Results
UP Awards VIII Dossier
Shroom Awards VI Dossier
2015 Tokens